From the Huffington Post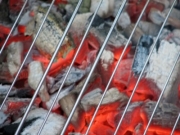 The flame war between charcoal grill purists and gas grill hotheads burns brighter than the debate between Mac and PC users. You should read some of the slop slung on the barbecue message boards. On second thought, don't. Let me try to sort it out for you with a few inflammatory thoughts.
Grills are used mostly for three types of cooking:
1) High heat direct radiation cooking when the food is placed directly above the heat source for things like steaks.
2) Indirect heat convection roasting for things like whole chickens and roasts when the heat source is off to the side and the food cooks by warm air circulating around it.
3) Indirect heat smoke roasting for things like ribs when the warm air is heavy with flavorful hardwood smoke.
Let's see how each fuel performs at these tasks and all the other factors.