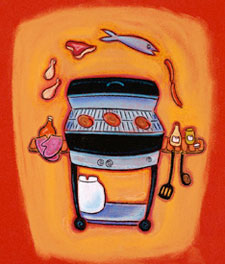 Yup, it's time to drag out the ol' grill and have the gang on over for an end of summer, big bash barbecue. Labor Day's the perfect name for that holiday, because we'll be laboring off what's left of our arses to prepare for it.
Time for us to tidy the yard of all dying blossom debris, clean the lounges of bird generosities, and hose off the cobwebs on the hammock, evidence of us forgetting to relax and just swing this summer.
Then, gotta get at that gook, the residue of barbecue that didn't burn off from the Memorial Day or Barack's-near-our-Block party, remove those flakes of festivities that have clogged neath the jets. Read Real Simple for cleaning secrets. Have to ask hubby to get on all this, plus disconnect the old propane tank and lug it out to the car then get a new propane tank just in case we run out in the thick of the festivities. ….Wait! I don't have a husband. I am the husband.
They say women have eschewed fire since all that Salem witch burning went on during the 1690's. Females' fear of fire worsened with the invention of flammable hair sprays in the 40's. A few measly grilled hot dogs wasn't worth becoming a Tiki torch in the process. Nor were a few beef burgers on the barbie worth taking on a summer romance that might change color, wither and fall come fall.
But boy oh boy, it's times like these that a good man comes in handy, huh girls? In case you don't have one lying around in front of your big screen Hi Def, here's how to make a party for plenty of people easy on your estrogen limited skills.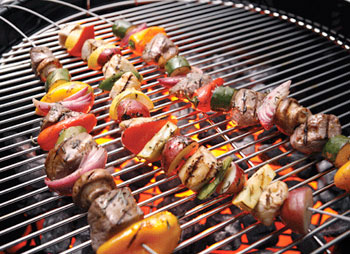 First of all, promise lavish main courses and tell folks to bring the rest, assigning women preparation duties from all the summer food groups: salads; corn au cob with embellishments; fruit centric desserts. Honor the throwback, gender-biased division of labor by asking men to bring packaged snacks, beer and wine for the grownups and carbonated sugarless juice-based drinks for the kids. Gloria Steinem will forgive you.
Shop ahead, marinate in advance, sleep in on the morning of the big day so you can actually be semi-conscious, even without hired help. Chicken skewers previously drenched in red pepper tomato sauce with a squeeze of fresh oranges and cinnamon, makes for a South Western wonder. Lamb skewers soaked in garlic oil and cumin (see recipe below) give a great Middle Eastern kick to your feast when slightly scorched. Shish kabobed sticks of flavorful meats, interspersed with slices of oil sprayed yams, served on a bed of saffron rice on your best planks and platters makes for a great display.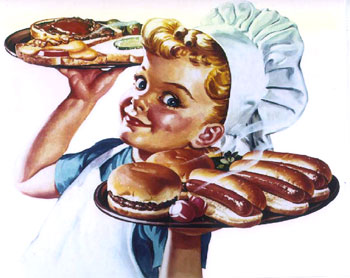 And if you pull a Tom Sawyer, making the spinning of skewers on your firey grill, look like the most fun a female can muster, nearly as much as whitewashing a wooden fence, men will gather to assist, like moths to a flame. Men are funny that way. Pretty soon they're taking over and talking about sports scores, which they seem to pick up subliminally, wirelessly from the ethers, while they sweat over your fire, showing off to one another how they can handle the heat. Meantime, you're slipping away to provide scintillating conversation to your guests til it's time to serve platters of perfected proteins.

Cumin Lamb Skewers

4 to 6 pounds of cubed lamb, fat trimmed off
5 tablespoons olive oil
4 tablespoons ground cumin
1 tablespoon minced garlic
2 yams, peeled and cut in slices
2 teaspoons cornstarch
2 tablespoons cold water
Thoroughly rinse the lamb under the cold tap and dry it with paper towels. Lay the lamb in a roasting pan. Make 3 to 4 shallow cuts in the lamb pieces.
In a small bowl add olive oil, ground cumin and garlic; mix well. Insert into the cuts and spoon the rest all over the lamb. Cover with aluminum foil and stand for at least 2 hours in the refrigerator. The longer the meat stands, the stronger the flavor will be.
Preheat grill on medium. _Place lamb chunks and yam slices on the grill, and turn when browned. Skewer meat and yams so the flavors intersperse.
Make a gravy with the juices left on the roasting pan by adding the mixture of cornstarch and cold water plus some boiling water until a thick consistency is reached.
Serve on the side for those who like their meat moistened.
Makes 6 servings.