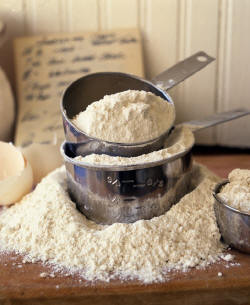 I'm not really a baker. I make perfect oatmeal cookies (once every three years), perfect chocolate chip cookies (if really bored – Laraine Newman thinks the Joy of cooking recipe is the best, I just use the one on the back of the Nestle's chocolate bits bag) The secret to chocolate chip cookies is fresh nuts, if you ask me, the quality of the pecans or the walnuts, changes the equation. Sometimes, if I'm feeling really wild, I'll make butterscotch chip cookies, same recipe, but butterscotch bits instead of chocolate and totally delicious.

I went through a phase where I made bread (when I was at boarding school in Vermont and there was a Country Store down the road that sold 100 varieties of flour from the grist mill down the road) so it was sort of hard to resist. And we didn't have a television, but we had a kitchen in our dorm with a sweet old Wedgwood stove and somehow, the smell of bread, and an occasional roast chicken, made it feel somewhat more like home. But I can't really find good flour any more and fresh baguettes abound.

A number of Christmases ago, Quincy Jones gave my first husband a bread maker. It was sort of a novelty (kind of like a pasta maker but more useful) and the bread was from a mix and sort of oddly shaped but we went through a phase of that, too. I think I lost the bread maker in the divorce.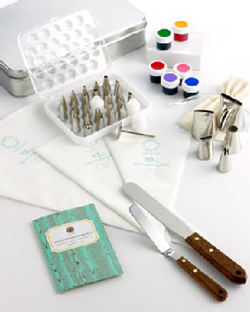 My sister once gave me a Martha Stewart cake decorating set, which was also a novelty and had lots of attachments (flowers, swirls, triangles) and lots of icing squeezers which were a pain in the neck to keep clean and I don't know what happened to that either.... I think I lost it in a move.

I can make pie crust (I hate store-bought pie crust) but since I've discovered Williams-Sonoma's perfect pie crust (which is a mix which comes in a bag and which is perfect), why bother making it from scratch. And my present husband says that his first wife makes the BEST APPLE PIE in the world. And, on top of that, he doesn't really like pie, so, why compete, when you don't have to. Except when it's summer and peaches are in season and it's really hard to resist.

Baking requires patience and precision. You have to read the recipe. You have to measure precisely (unless you're making cornbread or Irish soda bread). You have to add the ingredients in the right order (this is key, by the way). You have to remember to turn on the timer. And it helps if you have a perfect oven, which our Wolf Stove (which isn't really a Wolf Stove, even though it says it is, but that's another story) doesn't really have.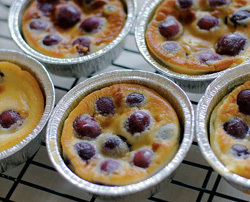 And my husband is sort of a perfect baker (despite the oven). He makes a perfect ginger cake, a perfect chocolate cake. He loves to make clafoutis even though we all make fun of him when he does (since it's our contention that no one, except him, really likes clafoutis.) So, mostly, I leave the baking to him. Because he is precise, he does read the recipe, measure properly, add the ingredients in the right order and, for the most part, remember to turn on the timer.

But I make a perfect cake. Just one. Dionne Lucas' Maple Cake. It really is a masterpiece and it looks like something Martha Stewart would make or as if it's from an art-directed movie about the 4th of July, partly because the white maple icing cascades perfectly down the sides of the perfect cake and swirls all over the top. And it's totally delicious.

I make it once a year. Usually on the 4th of July. Or Labor Day week-end, when we've been invited to a big party and someone asks me if I want to bring something....and I feel like showing off.
Dione Lucas's Maple Layer Cake
For the cake:

1 cup vegetable shortening (like Crisco)
1 cup granulated sugar
1 egg
3 egg yolks
1 ½ cups sifted cake flour
2 teaspoons baking powder
½ cup whole milk
3 egg whites

For the icing:

3 cups maple syrup
¾ cup egg whites (should be about 5 large eggs)

Heat oven to 350° F

For the cake:

Beat vegetable shortening in a large bowl until light. Slowly beat in sugar. Add egg and egg yolks, one at a time, beat thoroughly after each addition.

Sift flour with baking powder and salt. Add to the batter in three parts, alternating with three parts milk.

Beat the egg whites until stiff. Fold gently into batter.

Pour batter into two buttered and floured 8-inch round cake pans.

Bake cake 25 minutes or so until toothpick inserted in center comes out clean. Cool on a wire rack.

For the icing:

Heat maple syrup to a boil in a medium saucepan. Boil 5 minutes.

Beat egg whites in the large bowl of an electric mixer until soft peaks form. On high speed, slowly pour in the boiled syrup in a thin stream. Continue beating until it looks spreadable.

Generously ice bottom layer. Place on top layer of cake. And generously ice the top and sides until the cake almost looks like it's cascading in icing and ready for a party.