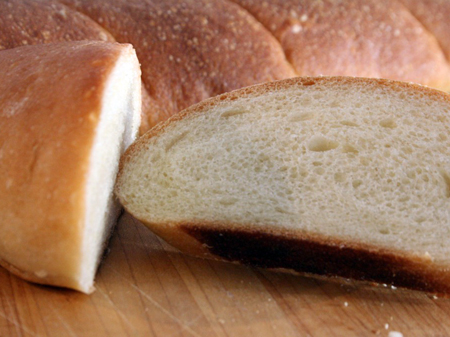 Snow days keeping me tucked inside my warm, cozy house with my favorite guy, a sweet puppy, a fire in the fireplace, hot soup, homemade bread and a bottle of red wine — winter life in northern Minnesota really doesn't get much better than that.
Making your own bread does not have to be difficult. French Bread Times Two proves it.
I learned of this recipe that makes two loaves of French bread from an energetic friend of my mom's years ago. This friend loved to cook and bake and entertain. She excitedly shared the recipe with my mom, explaining how she loved being able to conveniently pull the chilled loaves from her refrigerator and bake them just before her dinner guests arrived, bringing her all kinds of raving compliments and incredulous ooohs and aaaahs.
Well, my mom was duly impressed. Unfortunately, she was never very interested in making bread from scratch. After all, those frozen loaves of dough from the freezer case at the grocery store were awfully good and demanded no effort at all.
My mom passed the recipe over to me.
French Bread Times Two does not take long to mix up, knead and shape into two long, slender loaves. I often bake one loaf soon after shaping, allowing it to chill for just a few hours first. The second loaf gets pulled from its rest in the refrigerator and baked the next day.
These loaves allow me the satisfaction of kneading the smooth, soft dough. It's my favorite part of making homemade bread. And then, the eating of the warm slices. If ever there happens to be some bread leftover, I turn it into French toast the next day.
Mix once, knead once, shape two loaves and refrigerate. Heat oven. Bake. Eat.
If you're willing to share the bread, you can sit back and enjoy all the compliments.
By the way, this French bread is just what you need with a bowl of steaming Bean Soup.
French Bread
2¼ cups warm water (105 degrees F. to 115 degrees F.)
2 (1/4-ounce) packages active dry yeast
1 tablespoon sugar
1 tablespoon salt
2 tablespoons extra virgin olive oil
5½to 6 cups all-purpose flour
Pour warm water into a large mixing bowl. Add yeast and sugar and mix with a whisk. Let sit for a few minutes until mixture bubbles, foams and grows. Stir down with a wooden spoon. Add salt and olive oil. Gradually add flour, beating mixture with a wooden spoon after each addition. When dough begins to leave sides of bowl and follow the spoon, transfer to work surface sprinkled with flour. Turn mixing bowl upside down over dough and allow to relax for a few minutes. While dough is relaxing, grease a large glass bowl and set aside. Grease a large baking sheet and set aside.
Remove bowl covering dough. Knead dough for 5 to 10 minutes, adding flour to work surface as needed to prevent sticking. You may not need the total amount of flour called for in the recipe. Form dough into a round. Place in reserved greased bowl. Turn dough over so greased side is facing up. Cover bowl with plastic wrap and a towel and allow dough to rise in a warm place for about 30 minutes.
Punch dough down and divide in half. Roll each half of dough to a rectangle approximately 11 inches x 17 inches. Roll up, beginning at a long side, fold ends under and place on greased baking sheet. Both loaves of dough should fit on one baking sheet. Brush each loaf with olive oil. Cover with plastic wrap to seal and then a large towel. Refrigerate up to 24 hours.
To bake, preheat oven to 400 degrees. While oven is heating, remove loaves of dough from refrigerator. Brush each loaf with cold water and slash the tops with a sharp knife. Bake 30 to 40 minutes until loaves are golden and sound hollow when tapped with finger on the bottom. Immediately transfer to cooling racks.
Makes 2 loaves.
Sue Doeden is a popular cooking instructor, food writer and integrative nutrition health coach. She is the host of Good Food, Good Life 365 on Lakeland Public Television. Her own hives full of hardworking bees and her love of honey led to the creation of her recently published cookbook, Homemade with Honey.