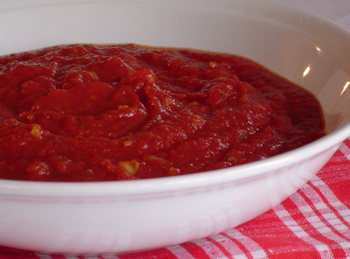 It's funny how years ago when I made an easy baked Italian rigatoni dish, a jar of Ragu seemed to work just fine. Now, I can't even remember the last time I purchased a jar of pasta sauce.
There must have been a time when I was inspired to try making a sauce from scratch. Once I discovered how easy it was to produce a fine tasting red sauce to spoon over pasta, I began experimenting until finally, Rich Red Sauce for Pasta was the recipe I wrote in a little book that holds my recipe collection.
As you read the recipe you'll probably stop when you get to the garlic. Sixteen cloves of garlic? That's right. You'll be so surprised as you eat the sauce – you'd never guess it holds that much garlic.
The aromatic, licorice flavor of fennel is often found in Italian sauces and sausages. It adds delicate flavor to this Red Sauce without being an overpowering taste. Found in the produce department of most grocery stores, it looks like very fat celery with feathery fronds. The fronds are also edible and can be tossed into soups and salads.
To prepare fennel, rinse under cold running water. Take a thin slice off the bottom end of the fennel bulb. Trim the fennel, discarding stalks and outer layer of bulb if bruised. Halve bulb lengthwise and core. Cut the bulbs crosswise in 1/2-inch-thick slices and then chop the slices.
The recipe makes at least enough sauce for 12 servings of spaghetti. It freezes well, so it's easy to always have some on hand.
You'll find this sauce is perfect for serving as a dip for warm breadsticks. It is a delicious complement to any pasta. It makes a great Italian sandwich with sausage, peppers and onions sealed together with mozzarella cheese.
Enjoy!
Rich Red Sauce for Pasta
1/2 cup olive oil
1 bulb fennel, chopped
2 teaspoons fennel seeds
1 large onion, chopped
16 cloves garlic, minced
1/2 cup white wine
3 (6-ounce) cans tomato paste
3 (28-ounce) cans whole Italian plum tomatoes, 2 cans pureed and 1 can chopped
2 teaspoons dried basil leaves
1 teaspoon dried oregano leaves
1/2 teaspoon crushed red pepper flakes
Salt to taste
Heat olive oil in large, heavy pot. Add onions, chopped fennel and fennel seeds and saute for 15 minutes. Add garlic and saute for 2 to 3 more minutes. Add white wine and cook until liquid is almost evaporated.
Add remaining ingredients. Simmer gently until sauce becomes the consistency you like. I prefer thick sauce so I simmer for a long time. If you prefer a thinner sauce, add only 1 can of tomato sauce.
I like to freeze the sauce in 1-quart freezer containers. It's so nice to be able to pull homemade pasta sauce from the freezer whenever I need it.
Sue Doeden is a popular cooking instructor, food writer and integrative nutrition health coach. She is the host of Good Food, Good Life 365 on Lakeland Public Television. Her own hives full of hardworking bees and her love of honey led to the creation of her recently published cookbook, Homemade with Honey.