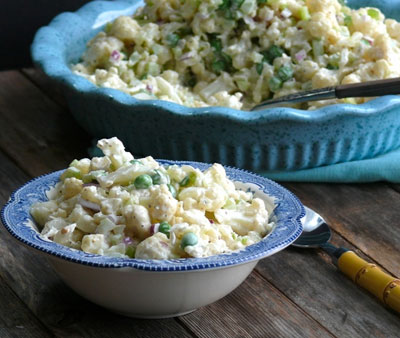 Memorial Day Weekend is quickly approaching, which means grilling season will officially commence. I say that with a smirk as the Pacific Northwest has been plagued with rain for the past week-and-a-half. Come back sunshine!!!
Old Bay seasoning is one of our favorites around here. Originally used to flavor crab and shrimp it is now widely used and popular in many dishes. The seasoning mix includes mustard, paprika, celery salt, bay leaf, black pepper, crushed red pepper flakes, mace, cloves, allspice, nutmeg, cardamom, and ginger. In the United States it is found in every grocery store but I'm not sure what its availability is in other countries.
I decided to make a cauliflower salad, something similar to a potato salad but sans the potatoes. This is low-carb and a perfect side to accompany any grilled food you might be serving this summer.
Cauliflower is low in fat, and carbohydrates but high in dietary fiber, folate, water, and vitamin C. Cauliflower contains several phytochemicals, common in the cabbage family, that may be beneficial to human health. It has great nutritional density and is something I love to serve in many ways; roasted, sometimes as a substitute for shrimp, in soup and on my pizza.
For this recipe you are going to blanch the cauliflower in order to soften it a bit. You'll want to cut the cauliflower into 3" pieces as you see above. once it was blanched I broke it into smaller pieces with my hands and then gave it a rough chop with a knife.
Old Bay Cauliflower Salad
Recipe created by Cathy Pollak for NoblePig.com | Serves: Serves 10-12
Ingredients:
2 heads cauliflower
4 large celery stalks, finely diced
1 cup frozen peas, thawed
1/2 cup finely diced red onion
2 cups mayonnaise
1 Tablespoon Old Bay Seasoning
1/2 teaspoon red pepper flakes
1/2 teaspoon coarsely ground black pepper
Salt to taste
Directions:
Bring a large pot of water to a boil. Cut heads of cauliflower into 3" pieces (as seen in the picture above). Have a large bowl of ice water ready as well as a paper-towel lined (many layers) baking sheet. Working in batches, blanch the cauliflower in the hot water, each batch for 3-4 minutes. Remove and immediately place in the ice water to stop the cooking process. Let sit in water for a few minutes and remove to the paper-towel lined baking sheet (you will need to continue to add ice to keep water cold for the other batches). Repeat process with the rest of the cauliflower.
When all cauliflower is done, break into smaller pieces with your hands (stems too) and give a rough chop with a knife. Here is the most important part, you will want your cauliflower to be really, really dry before you mix it with the mayo. Let it sit for a while in a single layer on a dry tray. Not doing this will result in a runny and diluted salad.
Mix together mayonnaise, Old Bay, red pepper flakes and black pepper in a medium-sized bowl (you can do this up to a day ahead).
In a large bowl add blanched cauliflower, celery, peas and red onion. Mix with the mayo-Old Bay mixture and salt to taste. Refrigerate for at least four hours before serving or overnight.
Cathy owns a vineyard and winery in the Willamette Valley of Oregon. She is a food writer for Davis Life Magazine and blogs daily about wine, food and everyday living. She currently resides in Oregon with her husband and two sons. You can visit her at noblepig.com.