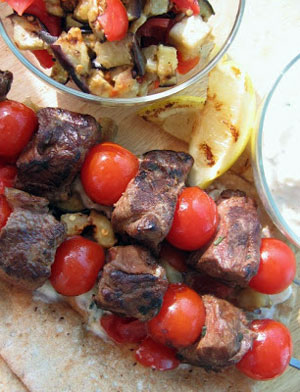 When Jeff watches t.v., it's typically one of three types of shows: sports (he's a guy), nature/science programs (he's a doctor), and cooking competitions (I'm stumped). He's not so much into instructional cooking shows, though he doesn't mind Giada's Everyday Italian (he's a guy). What he really likes are the cooking competitions, like Top Chef and Iron Chef America.

One night last summer, we saw a particularly inspiring episode of Iron Chef featuring Bobby Flay, Jeff's second favorite chef after Cat Cora (he's a guy; Jeff, not Cat, that is). We like Bobby's creativity and the way he makes ordinary grilled food seem chic.

So the following day when I went to the library, I checked out a couple of his books, including Grilling for Life and Boy Gets Grill. They were mixed in among a 4-foot high pile of cookbooks (including many baking ones) that caught Jeff's eye when he came home.

Picking through the pile like he was looking for the perfect apple among many bruised ones, he paused upon seeing Bobby's books. "Hon, why do you have two Bobby Flay grilling cookbooks?" he asked. "Because he's the guy you really like on Iron Chef, so I thought I'd check out some of his recipes," I replied. "So, are you planning on just reading them or actually making something from them?" he asked.

"Making something. Why else would I have gotten them?" I said. (Though we both instantly realized the flaw in that argument—for the next three weeks, the closest thing those baking books would come in contact with is dust.)

"But hon, we don't have a grill," he said delicately. "I know we don't have a grill, but we will some day," I said.
For the last three years, we lived in a WWII era home with many charming traits, including honey-colored hard woods and a fragrant lemon tree outside of our bedroom window. However, since these homes were built about 8 inches apart from one another, grills were not allowed.

We're in a new place now that was recently constructed, so we have not one but two grills. As a result, Bobby and I have become pretty tight.
This recipe is from Hot Off the Grill with Bobby Flay on The Food Network. The only changes I made were making kebabs with cherry tomatoes, omitting the garlic, and serving it with whole wheat pita bread. You may want to make extra jam...I was eating it by the spoonful.
Lamb Kebabs with Minted Cucumber Chutney and
Tomato-Eggplant Jam
Serves 4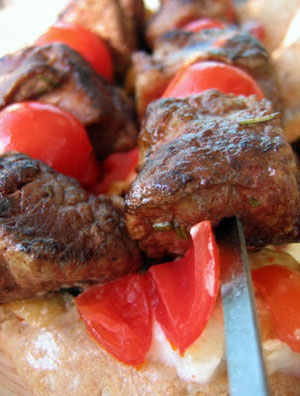 Marinade:
1 ¼- 1 ½ pounds lamb, cut into 16 equal pieces for skewers
½ cup olive oil
4 rosemary sprigs
1 Tbsp fresh thyme

16 cherry tomatoes, for skewers
4 whole wheat pita breads
Minted Cucumber Chutney:
8 ounces yogurt, drained
¾ cup seedless cucumbers, peeled and diced
1/4 cup mint, chiffonade
2 Tbsp finely diced green onions
1 Tbsp fresh lemon juice
¼ tsp cumin
Salt and freshly ground pepper
Tomato-Eggplant Jam:
1 small eggplant, thickly sliced
2 Tbsp olive oil, divided
Salt and pepper
1 cup cherry tomatoes, halved and seeded
1 Tbsp fresh lemon juice
Marinate the lamb in olive oil and fresh herbs at least 4 hours or overnight.
To drain yogurt, place in a fine mesh sieve over a bowl; refrigerate for at least a couple of hours. Place the drained yogurt in a medium bowl. Add the remaining ingredients, and season generously with salt and pepper. Let sit at room temperature for about 30 minutes before serving.

Brush the eggplant slices with 1 tablespoon of olive oil, and season with salt and pepper. Grill until just cooked through and lightly golden brown. Cut the eggplant into 1/2 inch dices. Place in a medium bowl, and toss with the remaining ingredients.
To warm pitas, place on grill for about 1 minute, flipping once. Keep under tented foil until ready to use.
To cook meat, preheat grill. Remove the lamb from the marinade, and season with salt and pepper. Alternate 4 pieces of lamb and four cherry tomatoes per skewer. Grill for 4-6 minutes, turning as needed, for medium-rare.

Serve cooked kebabs with chutney, jam, and pita breads.
Susan Russo is a free lance food writer in San Diego, California. She publishes stories, recipes, and photos on her cooking blog, <Food Blogga and is a regular contributor to NPR's <Kitchen Window. She is also the author of Recipes Every Man Should Know
and The Encyclopedia of Sandwiches
.