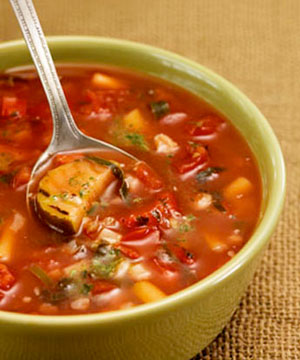 I'd flown to New York for too short a time and then extended my stay because I had too many things to do and then flew home. Crowded/full flights both ways, a little delay, and by the time I reached L.A., I was flat on my back. Jet lag. No. Fever.
And for me a completely curious thing - since I think the cure for the stomach flu is a chili dog or a hamburger please with French fries - absolutely no appetite. None. I was nervous about that.
I didn't eat anything for two days – don't discuss my metabolism, two hours is a long time for me.
But by the third day, I still didn't feel like I could eat anything.
Unaccustomed to any processed food, maybe blame it on the "cheese plate" if you can call it that that comes packaged on the plane if they put enough on and you can in fact purchase one, I felt only the freshest thing would do. Not even chicken soup. (I have a theory by the way that chicken soup is not a curative but quite the opposite, but that's another story.)
All I wanted was some kind of broth, no, something slightly more substantial. Home-made vegetable soup. The easiest thing in the world.
Saute chopped onions, chopped celery, & chopped loose organic carrots sprinkled with fines herbes, in excellent olive oil in a Crueset or similar pot with the top off, gently, so the onions and celery and carrots just soften.
Then pour in (contrary to above statement) at least one container of organic chicken stock. But suddenly there was a problem – tomatoes weren't in season. Muir Glen to the rescue, that miracle can of skinned roasted tomatoes (eight hours from field to can), chopped.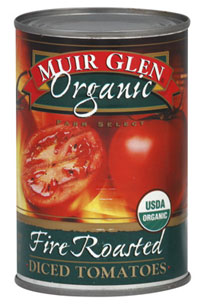 Boil. With top on. Until it's almost soup. If the liquid starts to dilute, add bottled water unless you live somewhere where the water is fresh and has no fluoride added, unlike Los Angeles.
And add any fresh vegetables that are available or in season (preferably organic). Zucchini, chopped in circles and quartered, cook until almost soft and add peas (they can be frozen). And the truth is you don't have to do anything else.
"We're having vegetable soup for dinner?"
"Yep."
My husband who thinks dinner is the meal of the day makes a face, puts some bread in the oven.......
It was completely delicious. The best. And I want to thank Muir Glen for that. Because under the circumstances, nothing else would've been appropriate.
And nutritious.
And I'm back to chili dogs (preferably w/out nitrites) and our special chili recipe.
But the real point is, it was so easy and completely delicious. Be adventurous. Add asparagus, corn, chickpeas if you have to. Like the best version of a sans pasta American minestroni.
And I wish I had some in the freezer!