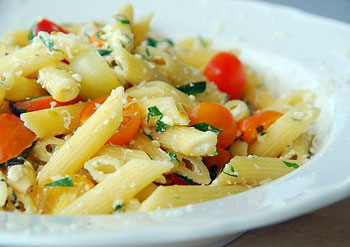 If the farmers' market were giving out superlatives, heirloom tomatoes would get "most popular." No contest. Today there were several different farmers selling them from $5-7 per pound, and each table had a line of people at least four deep waiting to buy some.
Considering that one tomato weighs about half a pound or more, you could be in for a real sticker shock if you buy 3 or 4 of them! People don't seem to mind though; probably because after years of eating tasteless, hard, dry supermarket tomatoes, it's worth paying a little more to get heirlooms that taste as exciting as they look.
Who can resist brilliantly colored, endearingly odd-ball shaped tomatoes with whimsical names such as Big Rainbow, Green Zebra, and Brandywine? If, however, you don't want to break a $20 just to try a tomato, then consider baby heirlooms instead. These diminutive members of the heirloom tomato family come in a dazzling kaleidoscope of colors. Unlike their larger brethren, however, they tend to be neatly round, oval, or teardrop in shape. Most baby heirlooms are the size of cherry tomatoes, though once in a while, you'll find one the size of a golf ball.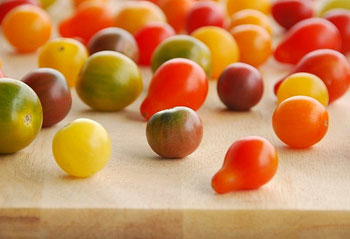 Baby heirloom tomatoes give you the experience of eating an heirloom tomato but at a fraction of the cost. Plus they're just the right size to pop into your mouth as you pass them on your kitchen counter.
Where can you find baby heirloom tomatoes? Though farmers' markets and specialty markets are the most reliable, they're actually starting to show up at many traditional supermarkets as well. Trader Joe's sells them for about $2.50 a container (now, that's a bargain).
Though petite, baby heirloom tomatoes are bursting with big tomato flavor, which you'll savor in this perfect-for-summertime, easy dinner: Penne with Fresh Ricotta and Baby Heirloom Tomatoes. Fresh ricotta cheese adds silky creaminess, while tangy lemon and aromatic fresh herbs enhance the tomatoes' flavor.
Penne with Fresh Ricotta and Baby Heirloom Tomatoes
Serves 4
8 ounces penne
1 cup baby heirloom tomatoes halved**
1/4 cup mixed fresh herbs, such as basil, chives, parsley, and tarragon
1/4 teaspoon lemon zest
1/2 teaspoon lemon juice
salt, to taste
7-8 cranks of freshly ground black pepper
1/4 cup whole milk ricotta cheese
1/4 cup grated Parmiagiano-Reggiano cheese, plus extra for garnish
1 tablespoon toasted pine nuts

In a medium bowl, combine tomatoes, herbs, lemon zest and juice, and salt & pepper. Set aside.
Cook pasta in salted water according to directions, being sure to keep it al dente (cooked through yet firm). Drain and return to pot. Stir in the ricotta cheese until pasta is evenly coated. Stir in grated Parmiagiano-Reggiano. Add the marinated tomatoes, and toss until just combined. Sprinkle with toasted pine nuts and some extra grated cheese, and serve immediately.
**If you are unable to find baby heirloom tomatoes, then cherry or grape tomatoes make a good substitute.
Susan Russo is a free lance food writer in San Diego, California. She publishes stories, recipes, and photos on her cooking blog, <Food Blogga and is a regular contributor to NPR's <Kitchen Window. She is also the author of Recipes Every Man Should Know
and The Encyclopedia of Sandwiches
.