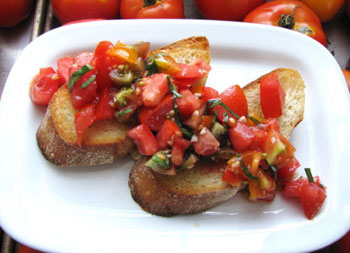 Proof positive that my patience (or lack of) is worsening by the year (and my memory, too): I checked our records (record-keeping nerd that I am), and, in fact, we picked the first of this years Sungolds and Early Girls EARLIER this year than last year–and the year before! (That's tomatoes from the garden, not the hoop house. The hoop house ones came almost a full month ahead of the field tomatoes.)
So I must officially stop complaining about the tomatoes (and everything else) being late this year, especially because now they're officially here! Time for salsa and bruschetta. Finally.
Summer Tomato Bruschetta
2 to 2 1/2 cups diced, cored ripe summer tomatoes (3 to 4 medium tomatoes; no need to skin or seed, just chop)
1 clove garlic, peeled and minced
10 to 12 medium-large leaves sweet basil, finely sliced or chopped
2 tablespoons extra-virgin olive oil, plus more for bread
few drops balsamic vinegar
few drops honey
kosher salt
4 to 6 slices rustic bread (each slice about 1-inch thick; I like a baguette cut on a sharp diagonal)
In a small mixing bowl, combine the tomatoes, the garlic, the basil, the 2 tablespoons olive oil, the balsamic vinegar, the honey, and about ¼ teaspoon kosher salt. Stir well to combine and let sit for 5 to 10 minutes, stirring occasionally.
Rub or drizzle the bread slices with a little more olive oil and toast them in a toaster oven or brown them under the broiler. Arrange the slices on two plates, sprinkle them with a tiny bit of salt, and spoon the tomato mixture over them. Let sit for a few minutes so that the bread soaks up a bit of the juices.
Serve for lunch or as a first course to dinner. You could also add some chopped grilled or sautéed shrimp to the tomato mix, and call this dinner.
Serves 2
Susie Middleton is the author of The Fresh & Green Table
(Chronicle Books, June 2012) and Fast, Fresh & Green
(Chronicle Books, April 2010). She is the former Editor and current Editor at Large for Fine Cooking magazine. She lives, writes, cooks, and grows vegetables on Martha's Vineyard. Her blog is at <sixburnersue.com