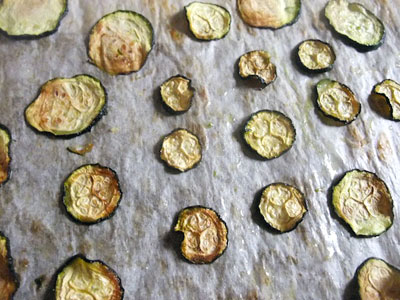 Zucchini is a favorite of gardeners because it's so impressive. It grows quickly and sometimes to staggering sizes. It's not my favorite for cooking with, because it's fairly bland and watery. I do appreciate that it adds great moisture to cakes and muffins as well as soups. I just find it doesn't add much in terms of flavor.

But I have recently discovered my new favorite way to enjoy zucchini! Yes, enjoy it! Because what's more enjoyable that potato chips? This recipe is the zucchini equivalent of potato chips. Ok they aren't as hearty as potato chips and I wouldn't use them for dipping, but they are very crisp and tasty.
Thin slices of zucchini slowly cook, dehydrate and then crisp up in the oven. The results are very crisp thin chips, that have a mild flavor, similar to toasted pumpkin seeds. That makes sense, since both are squash. You may be surprised at how much the zucchini shrinks in the oven. The slices in the photo were next to each other when I put them in.
I have a Breville SmartOven, it's a toaster/convection oven that I absolutely love. I can only crisp up one pan of zucchini chips at a time, but in my efficient little oven they are done fairly quickly. Looking online and speaking with my recipe testers aka parents, it seems other ovens can take significantly longer to make the magic happen. But as with any recipe that uses an oven, your results may vary.
Feel free to make several batches at a time, they disappear quickly!

Zucchini Chips

1 medium zucchini, about 6 ounces
1/2 teaspoon vegetable oil
1 pinch kosher salt, about 1/8 teaspoon

Preheat oven to 250 degrees. Slice the zucchini thinly, put not paper thin, using a mandolin if possible. Line a baking sheet with parchment paper or a baking mat. Place the zucchini on the mat and toss lightly with the oil then place each piece of zucchini so it is barely touching the piece next to it. Sprinkle lightly with salt and bake until crisp. Time will vary depending upon the type of oven you have and the size of the slices. It may take anywhere from 1 1/2 - 3 hours so check them frequently and remove chips as they become fully crisp.
Amy Sherman is a San Francisco–based writer, recipe developer, restaurant reviewer and all around culinary enthusiast. She blogs for Epicurious , Bay Area Bites and Cooking with Amy .