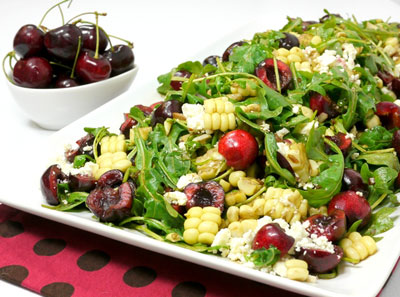 I wish there were more savory recipes that feature the cherry. It's sweetness and texture provide the perfect contrast for so many flavors. I love making a pan sauce with cherries and pouring it over pork tenderloin, it's delicious that way.


But this weekend I was inspired to use cherries in a salad. I happened to serve this Fresh Corn and Cherry Salad alongside my favorite preparation of rib eye steak. Everyone loved it.
Not to mention it was just so beautiful and colorful on the table. 

This recipe serves 8-10 people easily, so it is perfect for a large gathering of friends or family. You'll want to toss it right before serving as the arugula is a delicate green.
Fresh Corn and Cherry Salad
Recipe by Cathy Pollak for NoblePig.com | Serves: 8-10
Ingredients
For the Vinaigrette:
• 1 shallot finely chopped
• 1/3 cup good quality extra virgin olive oil
• 1/4 cup balsamic vinegar
• 1-1/2 teaspoons garlic, finely minced
• 1/4 teapsoon white pepper
For the Salad:
• 4 ears of corn cooked and kernels cut off cob (cooled)
• 5 oz baby arugula
• 1/2 cup finely diced red onion
• 3/4 cup crumbled feta cheese
• 1 lb cherries, pitted and sliced in half
Directions
• Add all ingredients for the vinaigrette to a mason jar and shake until mixed. Can be made 1-2 days ahead but you will have to bring it to room temperature before using.
• Add corn, arugula and red onion to a large bowl and toss together gently with vinaigrette. Transfer to a large platter and sprinkle with feta cheese and place cherries all over the top.
Cathy owns her vineyard and winery in the Willamette Valley of Oregon. She is a food writer for Davis Life Magazine and blogs daily about wine, food and everyday living. She lives with her husband and two sons. You can visit her at noblepig.com.