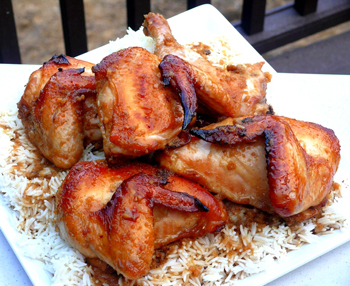 I am always searching for a new way to make chicken. It's one of those blank canvas foods...just waiting for inspiration to hit and turned into something wonderful.
While flipping through one of my Ina Garten cookbooks, I came across this recipe. There wasn't a picture, which often deters me from making something. I want to see it done. Anyway, it just sounded good, not to mention I had few hunks of ginger in the refrigerator I needed to use. Ina mentioned this was served in her New York store and was excellent both warm and cold.
The mixture of the honey, ginger, garlic and soy sauce sounded like the perfect flavor combination. So out came the chickens from the freezer to thaw completely and then the marinating process began.
Overall, the finished chicken was so juicy and surprisingly with the amount of ginger and garlic used, the flavors were mild and just perfect. This meant, my kids were willing to eat it. In fact they loved it. I served it over batsmati rice and there is plenty of sauce to go with the rice and pour over the chicken.
As far as a wine pairing, we served it with our 2009 Noble Pig Pinot Gris. It was the perfect balance of aroma and flavor to match this wonderfully, tasty chicken.
Did I mention how easy this was to make? And it's beautiful too. Enjoy it.
Indonesian Ginger Chicken
From Ina Garten

1 cup honey
3/4 soy sauce (I used reduced sodium)
1/4 cup minced garlic (8 to 12 cloves)
1/2 cup peeled and grated fresh ginger root
2 chickens (3-1/2 pounds each), quartered, with backs removed....(I used two split chickens and just removed the backs and quartered them)

Cook the honey, soy sauce, garlic and ginger root in a small saucepan over low heat until the honey is melted. Arrange the chicken in a large, shallow baking pan (I used a Pyrex 10 x 15 pan), skin side down, and pour on the sauce. Cover the pan tightly and marinate overnight in the refrigerator (don't skip this part).
Preheat the over to 350°F. Place the baking pan in the oven (still covered) and bake for a 1/2 hour. Uncover the pan, turn the chicken skin side up and raise the temperature to 375°F. Continue baking for 30 minutes or until the juices run clear when you cut between the leg and the thigh and the sauce is a rich dark brown.
Cathy is currently in the development stages of her vineyard and winery in the Willamette Valley of Oregon. She is a food writer forDavis Life Magazine and blogs daily about wine, food and everydayliving. She lives with her husbandand two sons. You can visit her at noblepig.com.