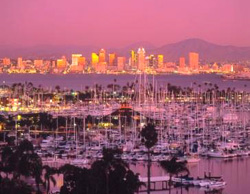 My love affair with food began in the dim dark ages of the glorious 1990's, when neon was king and it was cool to rock a mullet while listening to Marky Mark and his Funky Bunch. Born in San Diego and being brought up by a Hawaiian family from beautiful Kaneohe, greatly impacted my palate, and brought me to the culinary forefront well before my time. The Hawaiian family unit is a large extended conglomeration made up of relatives and friends of the family, which basically makes dinnertime feel like riding 'It's a Small World' at Disneyland, where everyone I'm not related to is either an 'aunt,' 'uncle,' or a 'cousin.' So in other words, it made finding a prom date that wasn't a cousin, quite difficult. (That's my excuse)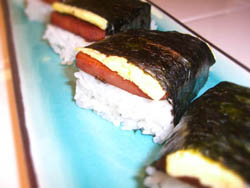 Speaking only from my experience, the institution that is the Hawaiian 'ohana' (family in Hawaiian) is solely based on food. Whether it be lau lau, chicken long rice, or Spam musubi, food is the adhesive that keeps a Hawaiian family close, and by family I mean, my five aunts and uncles, their families, and whoever might be hungry in a two mile radius that Sunday. So because of this, preparing a meal really means cooking for a small army, which in turn means two certainties: casualties at the dinner table and massive amounts of leftovers. It is because of these leftovers, that the hierarchy of elementary school royalty mercilessly shunned me. It is because of the lomi salmon, poi, and rice balls packed in my lunch, that no one came to my ninth birthday party (Or at least that is the story I'm sticking to).
However it is also because of these lunches, and the ahi poke, kahlua pork, and other Hawaiian dishes, that I search for new gastronomic heights. And as I pass Ono Hawaiian BBQ, wearing neon Nike's and a modified mullet, I think to myself, 'My time is now.'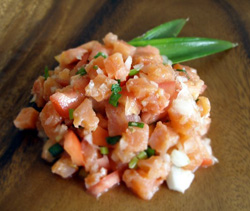 Lomi Lomi Salmon

Ingredients:

2-pound side of fresh Salmon
Hawaiian salt
4-6 tomoatoes, chopped (to taste)
1-2 Maui onions (to taste)
1 bunch green onions, chopped
pepper (to taste)

Salt the salmon. Layer the bottom of a glass casserole dish with salt. Lay salmon skin side down. Sprinkle salt on top and massage into the salmon. (lomi lomi means 'to massage' in Hawaiian) Put more salt over salmon, cover, and let sit in the refrigerator for 24 hours. Rinse salmon completely with cold water and dry with paper towels. Cut the salmon into 1/2 inch cubes and put into large mixing bowl. Chop tomatoes, Maui onions, and green onions, into same size as salmon and add to bowl. Lomi lomi the mixture until thoroughly incorporated and put ice cubes in the bowl to ensure that it's ice cold when served. This should yield a lot of servings.

Scott Shulman is a screeningwriting student at Cal State Northridge and an intern at Spyglass Entertainment. He is writing a spec script.