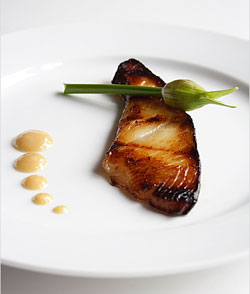 Before I tell you this story, I have to tell you how I met Bobby in the first place. I was in Century City with a friend of mine and we ran into this group of Persian guys. It was all very high school and they were all very hung over. I wasn't really paying much attention until one of them, within two minutes of having been introduced to me, starting feeling up my arm. I mean, really, feeling up my arm—you know, the underneath part of the upper arm that so many women (and some men) are sensitive about? Yea. To make matters worse, every time I tried to pull away he'd respond by saying, "Give me that filet." "Excuse me?!?" "You ate a lot of hoomoos as a kid, didn't you?" "Are you saying I'm fat?!" "Don't insult the filet this way."

I didn't see Bobby again for a few months and had pretty much forgotten about the whole exchange when I was at a birthday party at the new-ish Trader Vic's and all of a sudden, from across the pool, I hear, "Filet . . . Can it be you?" Needless to say, Bobby and I became fast friends, although he does still try to feel up my arm occasionally.

He called me recently and said, "Filet, what are you doing? My cousin and I are taking you out for sushi." So I hopped in his Escalade and after having a fight about whether or not the food at Katsuya Sunset was edible (which I won by quoting my father, "It'z like-eh Nobu make-eh sushi for Ralph's."), we decided on Matsuhisa, where apparently, Bobby has the "hook up". To all our surprise, Bobby dialed in and yelled into the phone, "Ron, it's Chaparang! I need 3 for the sushi bar." Chaparang?! Who's Chaparang?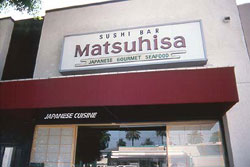 Apparently when Bobby was about 18, he called his cousin up (a different cousin) and asked him where he should take his friends out for sushi. His cousin told him Matsuhisa. "Dude, I'm not trying to drop $600 right now." "Just trust me. Tell them you're Chaparang." "Chaparang?" "Yea, Chaparang. It'll work." So Bobby rolls up to Matsuhisa only to find a crowd of celebrities, including Giselle and Leo, waiting outside for a table. He called his cousin in despair, "This is ridiculous. There are A-list celebrities waiting for a table." "Just tell them you're Chaparang. What do you have to lose?" So Bobby timidly walks in and explains that he's Chaparang and needs a table for 5. "Chaparang?" The hostess asks. "Yea, Chaparang." "Chaparang brother?" "Yea, I'm Chaparang's brother."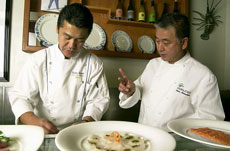 The hostess thinks on it for a minute, examining Bobby with a scrutinous eye, "Okay. CHAPARANG!" She yells out to the sushi chefs, who, to everyone's surprise, yell back "CHAPARANG" and magically a table for 5 appears and after a fantastic meal that left everybody stuffed and probably wasted, Bobby was left with a bill that had to have been at least cut in half.

Now I'm not exactly a stranger to Matsuhisa either and when we arrive, I walk in first while Bobby and his cousin park the car, and the hostess yells to me, "Sasha-daughter! How many you need? Two?" "Oh actually we need three, but we called in already." And it's at that moment that Bobby and his cousin stride in and the hostess pulls me aside and says in her most serious voice, "Sasha-daughter, how you know Chaparang?!"
Maia Harari is a writer and choreographer, born and raised in Los Angeles. You can follow her on twitter at www.twitter.com/maiacalypso