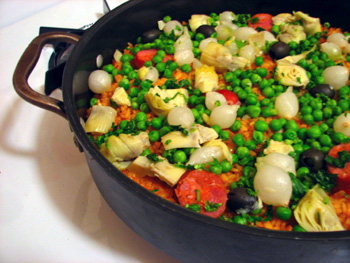 My kitchen is overflowing. My freezer is so full I can barely close it. I sometimes hear the crash of bottles, jars and tins falling off my pantry shelves and onto the floor. I seriously think I could cook and eat without going out of the house for a month. Ok, I might get bored of tuna and beans and pasta, but then again, maybe not. I have no idea what causes me to hoard food, but I sometimes imagine I must have been a starving Italian casalinga in another lifetime.

The other day I was thinking about using the short grain Valencia rice I had languishing in the cupboard to make paella. I was going to buy some shrimp but as I perused various recipes it became clear to me that you can make paella with just about any combination of vegetables, seafood or meat. There is no one paella. I figured I might as well use what I have on hand. In my pantry I had a jar of artichokes and a can of green olives, and in the freezer I had pearl onions, peas and a single sausage. Those ingredients were what I used on top of the paella rice. I tweaked the technique I found in a Mark Bittman recipe Tomato Paella to make the rice.

I know it seems hard to believe, but I only used one sausage for 4 servings of paella! Actually, you could easily make this a vegetarian dish. The idea is to use any leftover cooked or prepared vegetables and meats you have on hand or to raid your pantry. I wouldn't make this recipe unless I had several things I wanted to use up. This recipe is a good excuse for not throwing away that 1/4 cup of leftover carrots or peas or whatever you find yourself staring at when cleaning up after dinner. The variations are endless.

Pantry Paella
Serves 4

4 cups liquid, a combination of broth, water and juice from toppings (see below)
1 tablespoon tomato paste
Large pinch saffron threads
2 teaspoons paprika, preferably Spanish pimentón (smoked paprika)
2 1/2 cups toppings--cooked vegetables, seafood, meat (such as peas, artichokes, green olives, red peppers, shrimp, chicken, sausage)
Salt and freshly ground black pepper
1/4 cup extra virgin olive oil
2/3 cup onion, minced
1 tablespoon minced garlic, about 2 large cloves
2 cups preferably Spanish or other short-grain rice
Minced parsley for garnish
Lemon wedges

Preheat oven to 450 degrees. Combine stock and water with tomato paste, saffron and paprika in a saucepan and heat.
Put oil in a 10- or 12-inch ovenproof skillet over medium-high heat. Add onion and garlic, sprinkle with salt and pepper, and cook, stirring occasionally, until vegetables soften, 3 to 5 minutes. Add rice and cook, stirring occasionally, until it is shiny, another minute or two. Add liquid and stir until just combined.

Put pan in oven and roast, undisturbed, for 15 minutes. Check to see if rice is dry and just tender. If not, return pan to oven and continue cooking for another 5 minutes. If rice is dry but still is not quite done, add a small amount of stock or water or white wine. Amount of liquid will vary depending upon the size of your pan. When rice is ready, turn off oven, sprinkle toppings on rice and cover with lid or foil. Let pan sit in the oven for 5 to 15 minutes. Sprinkle with parsley and serve with lemon.
Amy Sherman is a San Francisco–based writer, recipe developer, restaurant reviewer and all around culinary enthusiast. She blogs for Epicurious , Bay Area Bites and Cooking with Amy .