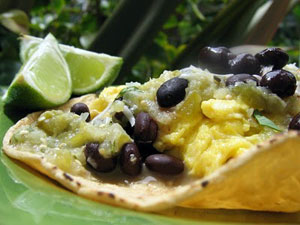 Since I live in Southern California, I really should speak Spanish. It's not like I don't know any Spanish. I know a few essential phrases, such as Buenas dias. ¿Cómo esta? Muchas gracias. And ¿Puedo tener huevos rancheros, por favor?

It's not much, but it's gotten me by so far, especially the last one. Knowing how to ask for huevos rancheros is muy importante since it's one of my favorite dishes for brunch. I ate heuvos rancheros for the first time 10 years ago in Chapel Hill, NC. Since then, I've eaten heuvos rancheros all over the country, from San Diego, CA to Miami, FL, and I can say two things for certain about them:

1. I've never had heuvos rancheros prepared the same way twice.
2. I've never had a dish of heuvos rancheros I haven't liked.

Heuvos rancheros refers to a dish containing eggs and tortillas. It is one of those gloriously laid back dishes that seems to turn out well no matter how much (or little) effort goes into making it and no matter which ingredients are used. As with any regional dish, I'm sure there are many recipes for "the right way" to make them. If so, I don't have it. I'm always altering the ingredients based on what is available seasonally and what I'm in the mood to eat.

One of the best I've ever had was in a diner in Albuquerque, NM, where they served the eggs fried, topped with black beans, and two sauces: a red and a green mole. Despite my efforts to replicate these moles, I never have quite achieved it. That's ok. I'll be happy to keep trying.

Regarding the eggs, I've had them fried, scrambled, and sunny side up, so it just depends on what you like. Though they're usually served on soft corn tortillas, I've also made them on crispy corn tortilla chips and on whole wheat tortillas as well.

As for toppings? It's up to you. Black beans are typical, but I like pinto as well as other veggies including peppers, potatoes, corn, and chayote squash. And for the cheese? From sharp cheddar to Jack to Cotija, they're all good. Sour cream and guacamole are typical, but I like them without. And I've had all types of savory sauces: from fiery to sweet moles and various salsas.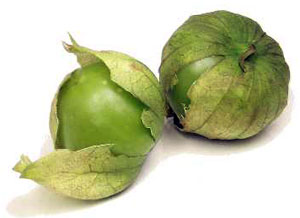 For this post, I made one of my favorite (and easiest) versions with a salsa verde (green salsa) since the farmers' market has just starting selling this season's fresh crop of tomatillos. If you're not familiar with tomatillos, pronounced (toh-MAH-tee-YOS), they look like a green tomato, but they're actually a member of the gooseberry family. They are small, green spherical fruit that are encased in a papery husk and are often used in Mexican and Southwestern cooking. They have a slightly tart flavor, not unlike a Granny Smith apple, and sometimes taste lemony. When buying tomatillos, look for bright green fruits (not yellow or brown, which means they're old), and make sure the papery husk is smooth and tight on the fruit, not shriveled or blackened. Tomatillos can be eaten raw or cooked.

For this sauce I roast the tomatillos, which mellows their tartness and pair them savory onions, fiery jalapenos, and tangy lime for a sauce with a little kick. The entire dish is pretty low-calorie yet filling, but you can add/substitute ingredients to your liking.


Heuvos Rancheros with Salsa Verde
Makes 4 servings.

½ cup white onion
1 small jalapeno with seeds
8-10 small tomatillos, husks removed, and quartered
1 tsp canola oil
The juice of ½ lime
1-2 Tbsp fresh cilantro, chopped
Salt, to taste
1 (15-oz) can black beans, rinsed

8 eggs
8 (6-inch) corn tortillas

Optional garnishes:
Shredded sharp cheddar cheese
Sour cream or Mexican crema
Additional fresh cilantro
Diced avocado

To make the salsa, preheat broiler. Place tomatillos, onions, and whole jalapeno in an oven proof dish; add 1 tsp canola oil, and toss to coat. Place under broiler for about 10 minutes, or until brown spots begin to appear on the vegetables. Remove from broiler; let cool for a few minutes. Place in a blender; add lime juice, cilantro, and salt. Blend until coarsely mixed.

Meanwhile, heat black beans on stovetop or in microwave.

Beat eggs in a small bowl; scramble on stovetop for 2-3 minutes, or until at desired doneness. Alternatively, you can pan fry the eggs in a little canola oil. It's a matter of preference.

To heat tortillas, simply place a tortilla directly over the flame of a stovetop burner. Using a pair of tongs, turn it several times to prevent it from burning, until it's warmed through but still soft to the touch. Keep tortillas wrapped in foil to stay warm until ready to serve. Alternatively, place tortillas in a warm oven (about 250 degrees) for 8-10 minutes, or until warmed through but still soft to the touch.

For each serving, lay two warmed tortillas on plate, top with ¼ scrambled eggs, ¼ heated black beans, ¼ tomatillo salsa, and desired garnishes.
Susan Russo is a free lance food writer in San Diego, California. She publishes stories, recipes, and photos on her cooking blog, <Food Blogga and is a regular contributor to NPR's <Kitchen Window. She is also the author of two upcoming books that will be published in the fall of 2010.