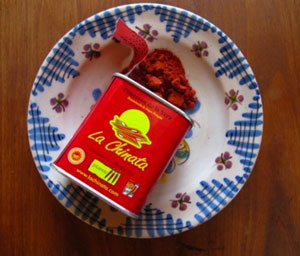 I was recently asked by Heinz 57 Sauce and the folks at Good Bite what my favorite "flavor twist" was. They wanted to know what simple addition could be made to meals that would take them from simple to special. The answer was easy – Smoked Paprika.
Smoked Paprika, Pimenton de la Vera or Pimenton Ahumada comes from Eastern Spain. The red peppers are gently dried with smoke, usually from oak, before being processed into paprika. You can find it at fancy food markets, on-line and even in the spice rack at the supermarket. In fact, a McCormick rep told Bon Appetit Food Editor Sarah Tenaglia, that their jars of smoked paprika were one of their hottest sellers. So, I guess I'm not the only one who likes to add zip to dishes with Smoked Paprika.
The Spanish varieties, available in little tins, come in dulce – sweet or mild, and picante – hot. If you like things spicy, go for the picante, but a little cayenne pepper can be added to the dulce for the same effect. The tin pictured was a gift from my friend Pierre, who just returned from a trip to Spain.
The sticker on the top of the can is printed:
SENSACIONES! El Aroma del Fuego, El Color del Sol, El Sabor de la Raza, La Fuerza del Viento. – Wow! I want to add that to ALL my dishes!
Here is my recipe for Roast Pork Tenderloin with Smoked Paprika for Good Bite and Heinz 57. Enjoy! (P.S. Aarti does a great demo, but I would use a large, metal roasting pan – like a 12x16x1 – for better browning!)
Roast Pork Tenderloin with Smoked Paprika, Potatoes and Green Beans
Yield: 4 servings
Olive oil
4 tablespoons olive oil
1 generous tablespoon smoked paprika
4 garlic cloves, pressed
1-pound pork tenderloin
1 1 pound baby potatoes, quartered
10 ounces trimmed baby green beans
1 tablespoon chopped fresh oregano or parsley
Preheat the oven to 450º F. Brush a heavy large shallow roasting pan (about 16 x 12 x 1) with olive oil.
Mix 3 tablespoons olive oil, smoked paprika and garlic in a large bowl. Brush the pork evenly with the paprika mixture and transfer the pork to the roasting pan. Add the potatoes to the paprika mixture and toss just to coat. Transfer potatoes to roasting pan with pork. Sprinkle the pork and potatoes with salt and pepper. Roast until the pork is almost cooked, about 20 minutes; stir the potatoes.
Toss the green beans in the same bowl with the remaining 1 tablespoon olive oil. Sprinkle the green beans with salt and pepper and add them to the roasting pan, surrounding the pork and potatoes. Continue roasting until an instant-read thermometer inserted into the center of the pork registers 140º F and the green beans are crisp-tender, about 5 minutes longer.
Cut pork into slices and transfer to a platter with potatoes and green beans. Sprinkle with oregano and serve.
Jeanne Kelley is an established food writer, recipe developer and food stylist based in Los Angeles, California. Integrating locally grown produce with globally influenced flavors, Kelley's approach to cooking is both simple, festive and fresh. Her recipes can be found in her latest book is Blue Eggs and Yellow Tomatoes: Recipes from a Modern Kitchen Garden
and on her blog Eat Fresh.