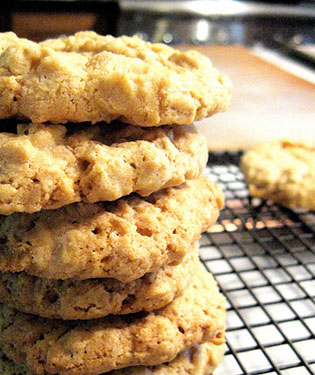 There are as many oatmeal secrets in America as there are splattered recipe cards – everyone seems to have a grandmother's trick or a magazine shortcut to oatmeal bliss. Me? Forget fancy training and hand-kissed organics, because I'd never abandon this pleasure: pulling back the Quaker Oats tab with a satisfying "whh-ch," getting a nice wholesome whiff, and then turning over the recipe to make Vanishing Oatmeal Cookies.
Oh, there are more glamorous recipes, more wholesome recipes, certainly more interesting recipes. But when it comes to oatmeal cookies, I don't mess with the oven gods. Simple is best, and tradition rules.
Still – one gets creative, and on this particular day I sorely tempted Quaker man's patience by mixing a handful of white chocolate chips into the dough. He looked at me sternly as they went into the bowl.

I say keep the base traditional – it can hardly be improved – and when white-haired guy's not looking, throw something delicious in for fun. Here are 25 ways to trick out your oatmeal cookies – not necessarily ground-breaking, but all tasty and all in one place. I guarantee they'll vanish.
25 ways to trick out your oatmeal cookies
add extra cinnamon and chocolate chunks
add dried cherries, crystallized ginger and a dash of powdered ginger
add chopped dried pineapple and toasted coconut
add finely chopped granny smith apple
add dried currants plumped in orange juice, and the zest of one orange
add chopped toffee bits and toasted almond slices
add dried wild blueberries and nutmeg
add chocolate chips and pecan halves
add white chocolate chips and toasted walnuts
add a few handfuls of any Trader Joe's trail mix
add a tablespoon of powdered espresso and cocoa nibs
add chopped dried pears and white chocolate chunks
add chopped candied orange peel
add dried cranberries and pumpkin pie spice
add chocolate chunks and salted peanuts
add grated raw carrot and toasted walnuts
add chopped dates and toasted coconut
add chocolate chips, chopped walnuts & mini-marshmallows
add about a cup of Rice Krispies cereal
Chocolate-Dipped: Bake jumbo cookies and allow to cool. Cut cookies into quarters and dip each pointed end in melted semi-sweet chocolate. Allow chocolate to set, and serve.
Oatmeal Black and Whites: bake large oatmeal cookies and cool. Make chocolate and white icings (try these icing recipes). Frost one half of each cookie with dark icing, and the other half with white.
Oatmeal Faux Macarons: make small, puffy oatmeal cookies and sandwich two with chocolate ganache. Allow ganache to set, and serve.
Orange-Glazed Oatmeal Cookies: make a light glaze by mixing 1 cup powdered sugar, 1 1/2 tablespoons orange juice, and pinch of grated orange zest. Drizzle over cookies and allow to dry.
Oatmeal Cookie Dip: Bake mini oatmeal cookies, and make chocolate yogurt dip: whisk one cup vanilla yogurt with one tablespoon of cocoa powder and one tablespoon brown sugar. Chill for an hour, then serve with cookies and fresh strawberries.
Brandied Cherry Oatmeal Ice Cream Sandwiches: soak dried cherries in brandy and drain. Add to oatmeal dough; bake jumbo cookies and cool. Sandwich with good-quality cherry ice cream and freeze.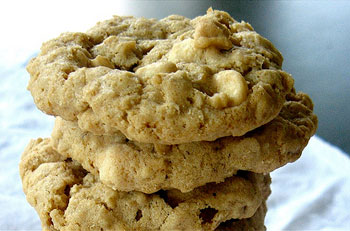 Quaker Oats Vanishing Oatmeal Cookie
1/2 pound (2 sticks) margarine or butter, softened
1 cup firmly packed brown sugar
1/2 cup granulated sugar
2 eggs
1 teaspoon vanilla
1-1/2 cups all-purpose flour
1 teaspoon baking soda
1 teaspoon ground cinnamon
1/2 teaspoon salt (optional)
3 cups Quaker® Oats (quick or old-fashioned, uncooked)
1 cup raisins (optional)
Heat oven to 350°F. In large bowl, beat margarine and sugars until creamy. Add eggs and vanilla; beat well. Add combined flour, baking soda, cinnamon and salt; mix well. Add oats and raisins (if using raisins); mix well.
Drop dough by rounded tablespoonfuls onto ungreased cookie sheets. (or cookie sheets lined with parchment paper) Bake 10 to 12 minutes or until light golden brown – do not overbake. Cool 1 minute on cookie sheets; remove to wire rack. Cool completely. Store tightly covered.
Makes about 4 dozen, depending on size of cookie
Marilyn Naron is a chef, daughter, mother, writer, wife and entrepreneur, best suited for just plain handing out delicious things. And repeating all the stories that go with them. Her recipes can be found on her blog Simmer Till Done.