One of the great things about summer in New England is the abundance of fresh sweet corn and local seafood... And no dish celebrates that seasonal and regional deliciousness quite like a corn and seafood chowder.
A few years (and a few sizes) ago, whether it was corn and clam chowder, corn and lobster chowder, even corn and haddock chowder, I ordered it every time it was on a menu. Sadly, my habit of souvenir eating–you don't know when you'll be back so you better eat it all while you're there–meant I also lugged home an extra 5 pounds after every vacation that wasn't in my suitcase. (Ugh.)
So once I began re-thinking and re-tooling my favorite dishes, I just had to find a way to enjoy that creamy New England goodness without feeling (or looking) like I'd swallowed Plymouth Rock.
It wasn't easy. It seemed like every one of the corn and seafood chowder recipes from my favorite chefs relied on white flour, a stick of butter (810 calories and 91 grams of fat) and a cup (and sometimes two!) of heavy cream (821 calories and 88 grams of fat per cup), which meant just a two cup bowl, without the fish, could have up to 800 calories…half the calories I need to eat in a whole day!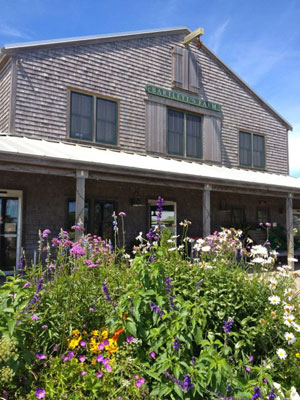 But after lots of trial and error during a recent visit to Nantucket (with a friend who was happy to shuttle me back and forth to the best local farm and seafood market as long as she didn't have to cook), I finally nailed my Moby Dick…a hearty and delicious corn and seafood chowder recipe that won't leave anyone feeling like a great white whale!
Instead of 400 calories and 30 grams of fat per cup, this chowder has less than 100 calories and just a whisper of fat…which means you can have a big 2 cup bowl with 4 ounces of protein rich scallops on top for fewer than 300 calories! And not only is this chowder not bad for you, because the roux has been replaced by nutrient packed pureed vegetables, it's actually good for you!
So next time you're craving a thick and creamy corn and seafood chowder, try this healthy imposter.
Whether you make it with sea scallops or shrimp, clams or lobster, it's dish that's as tasty as it is pretty and makes the most summer's goodness…in a smart and skinny way.
Sweet Corn Chowder With Spicy Seared Sea Scallops
(makes roughly 16 cups of chowder)
1 slice organic smoked bacon
1 large yellow onion, cut in half (one half will be roughly chopped, the other diced)
2 large stalks celery (one will be roughly chopped, the other diced)
1 small head of cauliflower, florets and stem pieces separated (florets chopped, stems diced)
4 cups fresh corn kernels, divided (strip the corn from the cobs, but reserve the cobs so you can "milk" them…more on that, later)
1/2 Serrano chili pepper, minced (This is optional. If you don't like heat, skip it.)
1 tablespoon fresh garlic, minced
1/2 cup cream sherry, divided (Make sure you use "cream sherry" and not "cooking sherry.")
8-10 cups chicken broth (I prefer using Better Than Bouillon paste which is richer in taste than typical canned broth.)
1 medium red skin potato, finely diced (about a cup)
1 small red bell pepper, finely diced (about a cup)
1 large carrot, finely diced (about a cup)
2 teaspoons fresh thyme, divided
Fresh ground pepper to taste (Unless you're using sodium free broth, you probably won't need to add salt.)
1/2 cup fat free half and half
Fresh large sea scallops (Since they average 1.5 ounces each, you'll only need 3 per person.)
Tony Chachere's Creole Seasoning (If you prefer less heat, use Old Bay Seasoning)
TO MAKE THE CHOWDER:
Start cooking 1 slice of organic bacon in a large soup pot that's been sprayed with cooking oil while you roughly chop 1/2 of the onion, 1 stalk of the celery, and the florets of the cauliflower. As the bacon renders it's fat, toss those veggies in and cook over medium heat until onions are translucent.
Add the chopped garlic and the chili pepper (if you're using it) and cook another minute or two. Stir in 1/4 cup of the cream sherry and use your wooden spoon to scrape any sticky bits from the bottom of the pan. Add 8 cups of chicken broth, 1 teaspoon of the fresh thyme and 2 cups of the corn kernels. Take the naked cobs, hold them over the pot and "milk" them…using the back of a knife to scrape out any sweet juices that remain.
Turn heat to medium high and cook about 20-30 minutes while you dice the remaining vegetables–the red skinned potato, the stems of the cauliflower, bell pepper, carrot, the other celery stalk and the other half of the onion.
When the veggies in the pot are extremely soft, remove the bacon, finely mince any red meat and set aside. (Either throw away the fatty bit or feed it to your dog...you don't want it in the soup.)
Move the pot off of the heat for a few minutes while you use your immersion blender to puree the mixture well.
Taste for seasonings and texture. If too much of the liquid has been lost to evaporation but tastes right, add in a cup or two of extra broth. If the broth is too intense or salty, add in a cup or two of water.
Place the pot back over medium heat and add the diced potato, cauliflower stems, bell pepper, carrot, celery stalk, onion and teaspoon of fresh thyme and cook another 20 minutes over medium heat until the potatoes are tender. (If you like your veggies firmer, reduce time a few minutes, if you prefer them softer, cook a few minutes longer.)
Turn off the heat and then add in the remaining 2 cups of corn. If it's fresh and sweet, that's all the heat it needs to cook it without destroying it.
While you quickly sear your scallops you can let the chowder cool a bit. After 10 minutes, stir in the remaining 1/4 cup of cream sherry and the 1/2 cup of fat free half and half.
TO MAKE THE SCALLOPS:
Rinse the scallops in cold water, pat dry with paper towels and sprinkle with either Creole Spice or Old Bay Seasoning.
Heat a non-stick skillet over medium high heat for a minute and then simply swipe the pan with a stick of organic butter. (Holding the stick of butter and rubbing it over the pan will give you just enough fat to cook and flavor the scallops without adding too much fat. I rarely use real butter in most recipes but keep a stick in the freezer for just these sorts of buttery needs.)
Add the scallops to the hot pan and cook, without turning, for 3 minutes. Flip and cook 2 minutes more.
TO SERVE:
Ladle 1 or 2 cups of chowder into individual bowls and top with 2 to 3 seared scallops per person. (This is a matter of preference. Sometimes I use a deep bowl and use 2 cups of chowder and 2 scallops a person and other times I use a shallow bowl with only 1 cup of chowder and 3 scallops.)
Top with the reserved bits of bacon and freshly snipped chives.
Serve with a big salad of of summer greens, tomatoes, cucumbers and a bit of avocado and you'll have a hearty and satisfying lunch or supper that's as impressive as it is skinny!
PLAY WITH YOUR FOOD
If you don't like or can't find fresh sea scallops, use shrimp, prawns, lobster or even a fresh seared white fish like haddock.
(If using lobster, it is more dramatic to float the whole tail and claws but it's much easier to eat if you chop the meat before adding it.)
If you're avoiding dairy, just skip the 1/2 cup of fat free half and half and use a full cup of Almond Milk, instead. (Make sure it's plain and not vanilla and, for this dish, I use the Silk brand which has a thickening agent.)
And you can always play with your vegetables… try celery root instead of a potato, or add fennel or leeks.
And though the addition of seafood makes this a full meal, you can always just serve a cup of the veggie only version as a starter. Or, you could add more seafood, puree everything and serve it as a bisque. And if you don't care for seafood, add chopped cooked chicken to the chowder…it's also delicious! Remember, it's just food, so play with it!
After 25 years as a local and network anchor, Lisa McRee was just another American mother struggling, and failing, to lose weight. Finally, she cracked the code, and lost 30 pounds, quickly and for good, by doing what she loves: reporting, cooking and eating! Visit The Skinny to see how she did it.