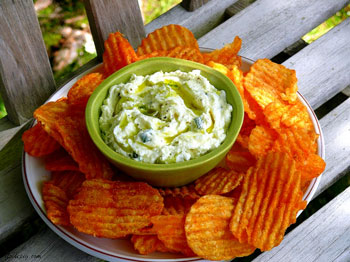 Wow, I was exhausted yesterday. Somehow the kid's first day at school wore me out. I'm not sure how that happened since all I did was sit around and wait for them to come home while I talked a bunch of jibber-jabber on Facebook

By mid-afternoon I was tired. Doing nothing can suck the life out of you. I decided I only had enough energy to make dip for dinner. So I whipped up this Feta Pepper Dip.
However, as the dinner hour quickly approached, the responsibility of being a mother and a wife extinguished my extreme lack of motivation. I am happy to report chicken and salad made it to the table along with this awesome dip.

Here's whatI love about it...the salty feta, with the slight heat of the pepperoncini and the tang of the lemon zest make a tasty little treat. The end all is to it up with barbecue chips. The barbecue chips are really a must here, the sweetness of them adding another layer of flavor.

But I'm also thinking this would be some kind of heaven slathered on a grilled lamb burger. That just might be lunch for us today.

Oh yeah, this dip comes together in a snap so no reason to not make it right up.
Feta Pepper Dip
Adapted from Cuisine at Home

8 ounce feta cheese, crumbled
8 ounce cream cheese, room temperature
1/2 cup mayonnaise
1/2 cup pepperoncini, sliced
1/4 cup green onion, sliced
1/2 teaspoon lemon zest
Black pepper to taste
Extra-virgin olive oil
Barbecue chips

Blend feta cheese, mayonnaise, and cream cheese in a food processor until smooth, scraping down sides of bowl periodically.

Fold in sliced, green onions, lemon zest and black pepper. Transfer to a serving dish and chill dip for at least one hour before serving.

Drizzle dip with extra-virgin olive oil. Make sure to serve with a sturdy, barbecue chip.
Cathy runs her own vineyard and winery in the Willamette Valley of Oregon. She is a food writer for Davis Life Magazine and blogs daily about wine, food and everyday living. She lives with her husband and two sons. You can visit her at noblepig.com.