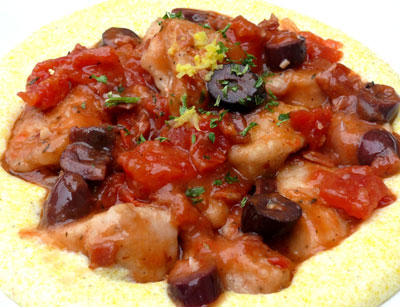 Chicken Marengo is an amazing Italian savory dish named for being themeal Napoleon Bonaparte feasted on after the Battle of Marengo (a battle between the French and the Austrians in the 1800s).
Apparently Napoleon demanded a quick meal once the battle ended. His chef was forced to come up with something great with only meager supplies on hand; chicken (and some eggs), tomatoes, onions, garlic, herbs, olive oil and crayfish. The chicken was allegedly cut up with a sabre and fried in olive oil.
A sauce was made from tomatoes, garlic and onions (even some Cognac from Napoleon's flask) while the crayfish was cooked up on the side and all was served over eggs with some of the soldier's bread ration on the side. Napoleonraved overthe food and since he had won the battle, considered this dish lucky. On future occasions Napoleon refused to have the ingredients altered, even when his chef wanted to omit the crayfish.
Modern versions of this dish, such as this one, leave out the crayfish and add olives for flavor. Serving this over polenta also makes this comfort food to the max. The flavors are over the top and you will love how moist the chicken becomes.
You have to try this, you will love, love, love it!!
Quick Chicken Marengo
Adapted from Cuisine at Home
1/4 cup all-purpose flour
1 tsp each kosher salt, black pepper and red pepper flakes
1 pound boneless, skinless, chicken breast halves, cut into 1-1/2" chunks
3 ounce prosciutto, diced
1/4 cup olive oil
2 cups sliced onion
1 Tablespoon minced garlic
1/2 teaspoon dried thyme
1/2 cup dry white wine
1 can (14.5 ounce) diced tomatoes in juice
1 cup chicken broth
1/2 cup pitted and chopped kalamata olives
1 Tablespoon fresh lemon juice
Lemon zest
Chopped fresh parsley
Combine flour, kosher salt, black pepper and red pepper flakes in a plastic bag. (If you are serving to children, I might suggest leaving out the red pepper flakes as it gives it a bit of a spicy kick.) Add chicken and toss to coat with flour mixture; set aside.
Saute prosciutto in oil in a large saute pan over medium-high heat until crisp, 5 minutes. Remove prosciutto to a paper-towel lined plate; set aside.
Cook chicken pieces in same saute pan over medium-high heat until browned on both sides; 2 minutes per side. Remove chicken to a separate plate. (Cut chicken into uniform pieces so they cook at the same rate. For the best browning, be sure the pan is hot before adding the chicken. Place chicken pieces in the saute pan so they aren't touching each other. You might need to do two separate batches.)
Saute onion in same saute pan over medium-high heat until softened, about 5 minutes. Add garlic and thyme; cook 1 minute. Deglaze pan with wine, scraping up bits on bottom of pan, and reduce until evaporated. Add tomatoes, broth and olives; bring to a boil. Reduce heat to a simmer. Return chicken with residual juices and prosciutto to the pan; simmer to thicken stew, 5 minutes. If you want it thicker, you can always dissolve one Tablespoon of cornstarch in 1 Tablespoon of water and add itslowly to the stew. Stir in lemon juice.
Serve stew over Lemon-Pepper Polenta (recipe below). Garnish with lemon zest and parsley.
Cheesy Lemon-Pepper Polenta
2 cups milk
1 cup water
1/2 cup yellow cornmeal
2 teaspoons minced lemon zest
1/2 teaspoon kosher salt
1/4 teaspoon black pepper
3 ounces cream cheese, cubed
Boil milk and water in a large saucepan. While coming to a boil add in salt, pepper and lemon zest and slowly start adding in cornmeal, whisking constantly until thickened, about 5 minutes. Stir in cream cheese until melted.
Cathy runs her own vineyard and winery in the Willamette Valley of Oregon. She is a food writer forDavis Life Magazine and blogs daily about wine, food and everydayliving. She lives with her husbandand two sons. You can visit her at noblepig.com.