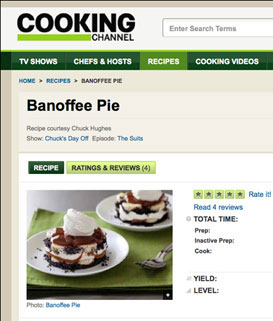 One of the best things of being a food photographer is the access to new tastes, flavors and recipes. Because 100% of what we do at our studio is actually edible, you'll find me on set most days asking this series of questions to Adam, my food stylist partner:
a) I've got the shot. Can you review it and tell me if there's anything you'd like to change?
b) Ok, fantastic. Looks great. We're done. Can I eat this?
I can't really remember a day where I haven't dug into a casserole or broken off a piece of bread or stolen a cookie. I often tell myself that it's part of my job and that I actually should know what things taste like. When I photograph a cookbook it's inevitable that people will ask me what the process was like and if there was a favorite recipe. Why shouldn't I be prepared?
Recently a rather unfamiliar dessert landed on my shooting surface. Ok, let me back up. Unusual for me. But then again I'm not a Sweets kinda guy, generally. But this item, Banoffee Pie, is an English favorite that we were shooting for Cooking Channel and it really caught my attention.
Let's see…bananas, check. Cookies, check. Coffee, check. Condensed milk made into caramel? Double check. I knew I was gonna try this. And something told me I was gonna like it.
Holy crap.
How have I gone 41 years without ever taking a bite of this? Adam's assistants were particularly jazzed, knowing how fun and tasty Banoffee Pie is. But me? I was a Banoffee Virgin, new to the combination of tastes and are all individually my favorites.
Was it over the top? Yes. Was it super sweet? Indeed. Do I crave it all the time now? Hell to the yes.
I danced around the studio with whipped cream on my face and kept saying "Imagine Banoffee This! Imagine Banoffee That!" I think I was reprimanded slightly by my team, told to re-focus and reminded that we had plenty of more recipes to shoot. Our day was far from over.
When I got home I furiously jotted down ideas and notes, then asked my dear sweet partner if we could one day return to the studio, play around with banoffee ingredients, photograph them, them shamelessly eat them until we collapsed.
He obliged.
So what did I discover? Banoffee ingredients make me happy. They work well introduced into a variety of formats. And that I will probably never get tired of bananas + caramel + cookies/crust + whipped cream + coffee. For reals, y'all.
Add this combination to the top of a cupcake and what do you have? Insanity. Any cupcake will do but you'll probably want to introduce a flavor that compliments a traditional banoffee pie. Banana cupcakes, vanilla or espresso could totally work. Top them with chocolate frosting, sprinkle graham cracker crumbs on top, a dollop of whipped cream, a banana coin and a small graham cracker. Drizzle with dulce de leche. Stuff into your face.
Could graham cracker crumbs, dulce de leche, cream, chocolate and bananas make a delicious parfait? Absolutely. It's rich, I'm telling you, so you might want to add a scoop of vanilla ice cream
Yes, I am a stickler for that panino/panini format, I can't help it. At any rate, spreading banoffee ingredients on bread, tucking some banana slices in there and then pressing on a grill or panini press gives you a sweet, breakfasty type sandwich (although the sensible me shudders at the thought of eating something like this for breakfast). Still, it's fun, delicious, and even better if you top it with a dollop of whipped cream.
Sigh. Oh, banoffee milkshake, you were my favorite. For some reason all these things in a blender with ice cream just sing. You could get a lil fancy and top with chipped cream, chocolate shaving and a drizzle of caramel if you wanted. Again, vanilla ice cream is a good start, but could you imagine butter pecan or any type of banana ice cream? I think I need to stop dreaming up ways to use these ingredients. I will no longer fit into my pants.
Matt Armendariz is a writer and photographer who lives in Los Angeles and chronicles his passion for food and travel on his blog MattBites. His latest book is "On a Stick!"