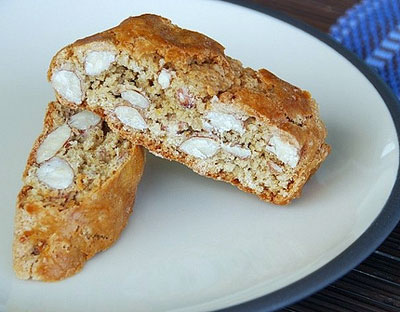 What is the all-time best dunking cookie? Italian biscotti. Whether it's a glass of sweet wine or a mug of steaming coffee, biscotti's firm, crunchy texture stands up to dunking like no other cookie I know.
Biscotti, (pronounced bis-caught-tee), have been around since Roman antiquity. The name is from the Latin biscoctus, meaning "twice-baked," since they were baked twice in the oven. Originally, biscotti was a practical food; because they were dry and sturdy, they were easily transportable for long journeys.
It wasn't until the Renaissance in Tuscany, that biscotti became considered a treat. They were served and often dunked in wine, such as vin santo. Because of biscotti's hard, crunchy texture, people eventually people began dunking them in hot drinks such as coffee as well.
Though original Tuscan biscotti were made with almonds, today's biscotti come in an endless array of flavors. Some are made with anise, others with coffee. Many are studded with nuts and dried fruit while others are dipped in chocolate. There really is a biscotti to please everyone.
Biscotti are really easy to make. I swear. And the more you make them, the easier they become, since you'll develop a feel for the dough and the texture. Once you get the hang of making biscotti, feel free to adapt this recipe. For example make a festive Christmas biscotti by replacing almonds with pistachios and adding dried cranberries or cherries; or dip them in chocolate like my mother-in-law does.
Traditional Italian Almond Biscotti
My mom's almond biscotti are satisfyingly firm rather than jaw-breakingly hard and are chock-full of toasted whole almonds and laced with fragrant orange zest. They are ideal for dunking in a mug of hot coffee.
Makes 36 (3/4 inch-wide cookies)
Print recipe only here.
3 cups whole almonds
1 cup granulated sugar
1 cup light brown sugar
1/2 teaspoon ground cinnamon
2 teaspoons baking powder
2 1/2 cups all-purpose flour
3 jumbo eggs
1 teaspoon pure vanilla extract
zest of 1 large orange (about 1 -2 teaspoons)
plus one egg, lightly beaten for brushing tops of loaves
Preheat oven to 350 degrees F. Line two large sheets with parchment paper.
Place almonds in a single layer on a baking sheet and toast in the oven at 350 degrees F. for 10 minutes. Remove and set aside.
In a large bowl, hand mix toasted almonds, sugars, cinnamon, baking powder, and flour.
In a small bowl, whisk eggs. Add the vanilla and orange zest and whisk until well blended. Add to the flour mixture. Work the batter together with lightly floured hands. The mixture will be sticky, but persevere. Keep squeezing the batter with your hands, until a dough starts to form. Once the dough is firm, form a ball. Divide the ball into four equal pieces.
On a lightly floured surface place one piece of dough, and using your hands, roll into a log shape that is approximately 8 inches long, 2 inches wide, and 3/4 of an inch high. Repeat with remaining three pieces of dough. Place two logs per baking sheet.
Bake for 40 minutes, or until the tops of the loaves are shiny and deep golden. Cool on a rack for about 20 minutes before slicing. Place a loaf on a cutting board, and using a large serrated knife, slice cookies 3/4 of an inch thick on the diagonal. If the cookie is crumbling, then let it cool a few more minutes. Don't let it rest too long, however, or they could become too hard to slice. Place slices on their sides back on to the baking sheets; place in the still warm oven with the temperature off and the door closed for 30-60 minutes. The longer they stay in the oven, the harder they will become. Remove from oven and cool completely before storing in an air-tight container, preferably a tin, which helps keep them crisp.
Stored properly, biscotti will last up to a month.
Susan Russo is a free lance food writer in San Diego, California. She publishes stories, recipes, and photos on her cooking blog, <Food Blogga and is a regular contributor to NPR's <Kitchen Window. She is also the author of  Recipes Every Man Should Know
and The Encyclopedia of Sandwiches
.