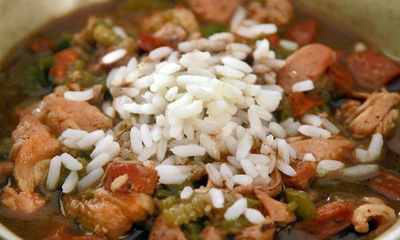 From the LA Times
The first time I met chef Paul Prudhomme, he was peering over the stove in his narrow test kitchen, a converted shotgun house just outside the French Quarter in New Orleans. Chef was heating oil in a large cast-iron skillet, and when he saw me, he invited me over to watch him fix gumbo.
When the oil was smoking hot, he quickly whisked in flour to form a roux — "Cajun napalm," he called it — the bubbling mass darkening to a deep chocolate brown in minutes. He stirred a trinity of vegetables into the roux to stop the cooking — onions, celery and bell peppers — then added the roux to a pot of boiling stock. Chopped andouille sausage and garlic went in as he patiently watched the stew, tasting occasionally, over a slow, quiet hour while it gently simmered away. When the rich aroma was almost too much to bear, Chef added chopped chicken, and soon the gumbo was ready.
I can't say which I savored more: the depth of flavor from a seemingly simple dish or the unhurried quiet, almost sacred, time spent preparing it.