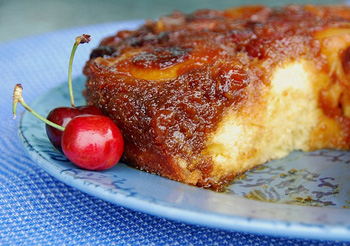 One of my favorites cakes to make is my mom's Upside-Down Pineapple Cake, which was her mother's original recipe that is close to 70 years old! However, today I wanted something that celebrated the beginning of summer.
With a gorgeous bowl of tart cherries and some sweet fresh peaches smiling at me, I found my inspiration. I added some freshly squeezed orange juice and zest which compliments the fruit and adds another dimension of flavor.
This is an amazingly light, moist cake that is only made more irresistible by a thick, sugary crust that holds the plump cherries and peaches firmly in place. After one mouthful, you'll wish you could eat it every day.
Fresh Cherry and Peach Upside-Down Cake
Makes 8 servings
1/2 cup butter (8 tablespoons)
1 cup brown sugar
3/4 cup fresh cherries, pitted and halved
3-4 small, ripe peaches, pitted and halved
1 cup flour, sifted
1 teaspoon baking powder
1/8 teaspoon salt
3 eggs, separated
1 cup granulated sugar
5 tablespoons orange juice
2 teaspoons orange zest
1 teaspoon pure vanilla extract
Place a rack in the center of the oven, and preheat to 350 degrees F.
Place butter in a 9-inch-round baking pan, and place inside of a warm oven until melted, about 5 minutes. Remove from oven, and sprinkle brown sugar evenly over the butter. Add the peach halves, cut side down, then add the cherry halves, filling in all of the nooks and crannies.
In a medium bowl, combine sifted flour, baking powder and salt, and stir.
Using a hand mixer, in a metal or glass bowl, beat egg whites at high speed until fluffy. Set aside.
In a separate bowl beat egg yolks with sugar at medium speed until creamy. Add orange juice, orange zest, and vanilla extract, and beat well. Add the flour mixture to the creamed mixture, and beat until well combined. Fold in the egg whites with a rubber spatula. Pour cake mixture evenly over the fruit, and smooth with the spatula.
Bake for 40-45 minutes, or until cake is golden and a toothpick inserted into the center comes out clean. Place on a wire rack to cool for 10 minutes. Run a blunt knife around the edges of the pan to loosen the cake. Invert carefully onto a plate. Serve warm or at room temperature.
Susan Russo is a free lance food writer in San Diego, California. She publishes stories, recipes, and photos on her cooking blog, <Food Blogga and is a regular contributor to NPR's <Kitchen Window. She is also the author of Recipes Every Man Should Know
and The Encyclopedia of Sandwiches
.