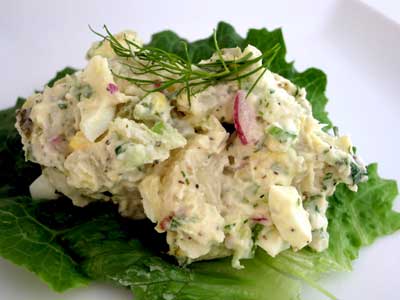 Summer barbecues just aren't complete without this classic side dish. Everyone has a favorite version, and when I'm looking for an authentic home cooked version, this is my recipe of choice.
As a kid, I was pretty fussy about what was in it, and my mother was forced to prepare a pretty bland version.
Feel free to alter the ingredients to your own taste – some people might not like the addition of chopped pickles, but I think it really perks up the salad. If you don't have sweet pickles, you can use and equal amount of sweet pickle relish.
Best Classic All American Potato Salad
2 pounds russet potatoes (3 to 4 medium), peeled and cut into 3/4-inch chunks
Salt and pepper
2 tablespoons red wine vinegar
1 tablespoon distilled white vinegar
1 medium rib celery, chopped very fine (about 1/2 cup)
2 tablespoons finely minced red onion
3 tablespoons finely chopped sweet pickles (not relish)
1 tablespoon sweet pickle relish
1/2 cup mayonnaise (see note)
2 teaspoons Dijon mustard
3/4 teaspoon powdered dry mustard
3/4 teaspoon celery seed
2 tablespoons minced fresh parsley leaves
1 tablespoon minced fresh dill weed
1/4 teaspoon ground black pepper
2 large hard-cooked eggs, peeled and cut into 1/4-inch cubes (optional)
1. Place potatoes in large saucepan and add water to cover by 1 inch. Bring to boil over medium-high heat; add 1 tablespoon salt, reduce heat to medium, and simmer, stirring once or twice, until potatoes are tender, about 8 minutes.
2. Drain potatoes and transfer to large bowl. Add vinegars, sprinkle with 1/2 teaspoon salt and 1/4 teaspoon pepper and, using rubber spatula, toss gently to combine. Let stand, loosely covered with plastic wrap, until potatoes are just warm, about 20 minutes.
3. In a medium bowl, stir together celery, onion, pickles, relish, mayonnaise, Dijon mustard, dry mustard powder, celery seed, parsley, dill, 1/2 teaspoon pepper, and 1/2 teaspoon salt. Using rubber spatula, gently fold dressing and eggs, if using, into potatoes. Cover with plastic wrap and refrigerate until chilled, about 1 hour; serve. (Potato salad can be covered and refrigerated for up to 1 day.)