by Alison Wonderland Tucker
What had caught fire was a little Jewish bakery and the perfume of smoldering challah, rugelach, and bagels overpowered everything else.  I danced in that smell.  I swirled it around in my mouth and inhaled deeper and deeper like a huffer desperate for a buzz.  I must have stood there for 20 minutes, but in those long delicious moments, I remembered who I am.  I am a baker.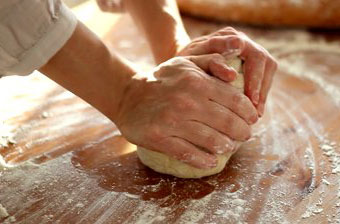 When I walked into the bar that night, I felt calm and reassured.  My ex-fiance and I had split because, in the end, we just weren't right for each other. It should be noted however, that his snarly celiac gluten intolerance didn't help the situation.
Almost 10 years later, I have developed into an experienced chef with a comprehensive repertoire, but deep down there's still no place I feel more at home than when I'm kneading flour into a combination of yeast and water. That's when I feel in awe of the transformative nature of cooking. That is when I am peaceful. That is when I'm passionate. And when I'm having a bad day, I just think back to that gorgeous smell in the flames that night and I immediately feel at ease. (And just so you know, the bakery caught fire after it had closed for the day so there were no injuries).
Brioche is like a gift from god. It's undeniable and the reason is butter, milk, sugar, and white flour. It's not gluten free. It's not diet food. It's not vegan. It's not good for you. And it's not possible to substitute anything out to make it good for you, so just stop doing that. I have searched for many years for the perfect brioche recipe and I think the goddess Julia Child nailed it. This is from her "Baking with Julia" book. I bake it in flower pots (a brilliant idea that I stole from a restaurant in Connecticut), and serve it instead of a basket of rolls on the table. People go nuts.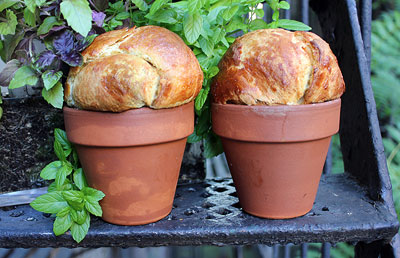 Brioche in a Pot

Makes 3 small flower pots of bread (please use new flower pots that have been seasoned: Preheat oven to 375, smear vegetable shortening or butter over the insides of the pots, bake for 10 minutes, repeat twice)
The Sponge
1/3 cup warm whole milk
2 1/4 teaspoons active dry yeast
1 large egg
2 cups unbleached all-purpose flour
Put the milk, yeast, egg, and 1 cup of the flour into the bowl of a heavy duty mixer.  Mix the ingredients together with a rubber spatula, mixing just until everything is blended.  Sprinkle the remaining cup of flour to cover the sponge but do not stir it in.
Rest:  Set the sponge aside to rest uncovered for 30-45 minutes.  After this time, the flour coating will crack, your indication that everything is moving along properly.
The dough
1/3 cup sugar
1 teaspoon kosher salt
4 large eggs, lightly beaten
1 1/2 cups unbleached all purpose flour
1 1/2 sticks unsalted butter, at room temperature
The glaze
1 egg white
1/2 teaspoon sugar
Add the sugar, salt, eggs, and 1 cup of the flour to the sponge.  Set the bowl in the mixer, attach the dough hook, and mix on low speed for a minute or two, just until the ingredients look as if they're about to come together.  Still mixing, sprinkle in ½ cup more flour.  When the flour is incorporated, increase the mixture speed to medium and beat for about 15 minutes, stopping to scrape down the hook and bowl as needed.  During this mixing period, the dough should come together, wrap itself around the hook, and slap the sides of the bowl.  If, after 7 to 10 minutes, you don't have a cohesive, slapping dough, add up to 3 tablespoons more flour.  Continue to beat, giving the dough a full 15 minutes in the mixer- don't skimp on the time; this is what will give the brioche its distinctive texture.
With the mixer on medium-low, add the butter a few tablespoons at a time.  This is the point at which you'll think you've made a huge mistake, because the dough that you worked so hard to make smooth will fall apart, but carry on.  When all of the butter has been added, raise the mixer speed to medium- high for a minute and then drop it down to medium and beat for about 5 minutes.  Clean the sides of the bowl frequently as you work; if it looks as though the dough is not coming together after 2-3 minutes, add up to 1 tablespoon more flour.  When you're finished, the dough should feel somewhat cool.  It will be soft and sticky and may cling slightly to the sides of the bowl.
First rise
Transfer dough into a large buttered bowl and cover tightly with plastic wrap.  Let rise at room temperature for 2 to 2 ½ hours.
Second rise
Deflate the dough and then let rise covered for another 3-4 hours or overnight in the fridge.
Take dough out of fridge for an hour before baking.
Shaping and baking the dough
Preheat oven to 375 degrees.  Punch dough down and separate into three mounds.  Dust the bottom of each mound with flour and then put them into the flower pots.
Combine the egg white with the sugar and brush onto the tops of each loaf.
Bake for 25-30 minutes, making sure that the tops don't brown too quickly – wrap tops with tin foil if they do.
Alison Wonderland Tucker is a chef and caterer who lives and works in New York City. She writes about her love of food and life as a chef on her blog A Wonderland of Words.