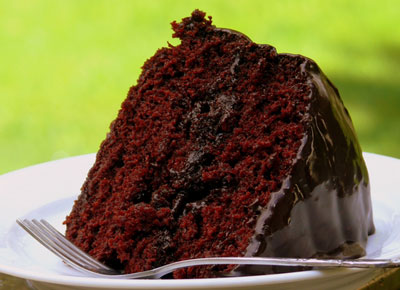 Wow is all I can say.  I don't think you'll ever go back to a boxed cake after making this one.  It's fantastic.  It's what grandma used to make with it's one-of-a-kind flavor and "Betty Crocker" looks.

No mixer required.  No eggs even.  The oil in the ingredients keeps it moist and it keeps well...not that there are going to be leftovers.

It's really, really fabulous.  Just remember when you are baking from scratch...do not overmix, measure exactly, sift your dry ingredients (especially the cocoa which tends to be clumpy) and follow directions.  Your cake will be amazing and you will not go back to the box mix.
Chocolate Cake
Adapted from Cuisine at Home

3 cups all-purpose flour
2 cups sugar
1/2 cup unsweetened cocoa powder
2 teaspoons baking soda
1 teaspoon table salt
2 cups hot water
3/4 cup vegetable oil
2 Tablespoons white vinegar
1 Tablespoon instant coffee granules
1 Tablespoon vanilla extract

Chocolate Icing
Adapted from Cuisine at Home

1 stick (8 T.) unsalted butter
1-1/2 cups sugar
1-1/4 cups unsweetened cocoa powder
Pinch salt
1-1/4 cups heavy cream
1/4 cup sour cream
1 teaspoon instant coffee granules
2 teaspoons vanilla extract
Powdered sugar if needed

Preheat oven to 350o F with rack in the center.  Spray two 8" round cake pans with nonstick spray.  Whisk dry ingredients together in a mixing bowl (sift everything too).

Combine water, oil, vinegar, instant coffee and vanilla in a large measuring cup.  Add to the dry ingredients and whisk just until combined - a few lumps are okay.  Divide batter among pans (3 cups in each), then bake until toothpick inserted in the center comes out clean, about 35 minutes.

Cool cakes for 20 minutes on a rack, then invert them onto the rack.  Leave cakes upside down to cool completely (this flattens domed cakes), then frost.

For the icing, melt butter in a large saucepan over medium heat.  Sir in sugar, cocoa and salt.  Mixture will be extremely thick and grainy.  Combine heavy cream, sour cream and instant coffee in a large measuring cup, mixing until smooth.  Cook until sugar has dissolved and mixture is smooth and hot to the touch.  Do not boil.

Off heat, add vanilla.  Cool icing at room temperature until spreadable, about three hours.  The icing is quite soft. If it seems too thin to stay put on the cake, stir in powdered sugar 1 Tablespoon at a time until it's easily spreadable.

Spread 1 cup icing all the way to the edges of the first layer of the cake.  Top first layer with second cake and spread with 1 cup of icing.  Blob more icing on the sides, then spread around.
Cathy is currently in the development stages of her vineyard and winery in the Willamette Valley of Oregon.  She is a food writer for Davis Life Magazine and blogs daily about wine, food and everyday living.  She lives with her husband and two sons.  You can visit her at noblepig.com.