Chiffon cakes are airy, moist, and delicious. They have an interesting history too. Harry Baker, a Los Angeles insurance agent turned caterer, is credited with the original chiffon cake in 1927.
For two decades he carefully guarded his secret recipe, making his special cake only for Hollywood screen stars and for the famous Brown Derby Restaurant.
In 1947, he agreed to sell the recipe to General Mills. They released the secret recipe in the May 1948 Better Homes and Gardens Magazine, and it became a nationwide sensation.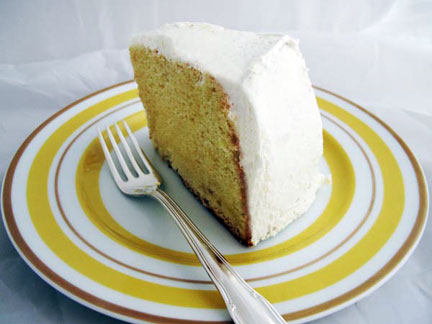 For the cake:
2¼ cups (8 ounces) cake flour
1½ cups (10.5 ounces) sugar (reserve 2 tablespoons)
½ teaspoon soda
1/2 teaspoon salt
1/2 cup safflower oil
7 large egg yolks
2/3 cup water
2 tablespoons fresh lemon juice
1 tablespoon freshly grated lemon zest
1 teaspoons vanilla
10 large egg whites
1¼ teaspoons cream of tartar
For the whipped cream frosting:
2 cups well-chilled heavy cream
2 teaspoons lemon juice
2 teaspoons freshly grated lemon zest
1/4 cup sugar
Pinch of salt
1. Adjust rack to lower-middle position and heat oven to 325 degrees.
2. In a large bowl of a stand mixer, sift together the flour, all but 2 tablespoons of the sugar, soda, and salt and mix on low for 1 minute.
3. Make a well in the center and add oil, egg yolks, water, lemon juice, lemon zest, and vanilla and beat for 1 minute to combine.
4. In another large bowl beat the egg whites until frothy, add cream of tartar, and beat until soft peaks form when the beater is raised. Beat in the remaining 2 tablespoons of sugar and beat until stiff peaks form. Gently fold in the eggs whites into the batter with a large balloon whisk.
5. Pour batter into large ungreased tube pan (9-inch diameter, 16-cup Wipe off any batter that may have dripped or splashed onto inside walls of pan with paper towel.
6. Bake cake until wire cake tester inserted in center comes out clean, 55 to 65 minutes. Immediately turn cake upside down to cool. If pan does not have prongs around rim for elevating cake, invert pan over bottle or funnel, inserted through tube. Let cake hang until completely cold, about 2 hours.
7. To unmold, turn pan upright. Run frosting spatula or thin knife around pan's circumference between cake and pan wall, always pressing against the pan. Use cake tester to loosen cake from tube. For one-piece pan, bang it on counter several times, then invert over serving plate. For two-piece pan, grasp tube and lift cake out of pan. If glazing the cake, use a fork or a paring knife to gently scrape all the crust off the cake. Loosen cake from pan bottom with spatula or knife, then invert cake onto plate.
Make the cream frosting:
1. In a large bowl, chilled, with an electric mixer beat together the cream, lemon juice, the zest, the sugar, and a pinch of salt until the mixture holds stiff peaks. Spread the whipped frosting on the top, center, and side of the cake.
James Moore is a producer, publicist and freelance writer. When not traveling the world, he's home in Los Angeles, testing and photographing food to post on his blog Cook Like James