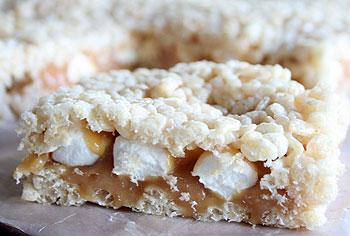 Surprised? I know. I wouldn't normally post a recipe for sweet bars made with crisp rice cereal and marshmallows. I'm going to a family reunion. There will be lots of kids there — little ones and big ones, too, if you know what I mean. Kids love rice krispie bars. I'm taking a very light, bright and healthful cabbage salad, too. So, it will all balance out in the sugar and calorie department.
This recipe came to me from a friend sometime in the early 1980′s. My boys were at a rice krispie bar stage of their lives. That stage coincided with a "not-much-time-to-bake" time in my life.
No-bake Caramel Krispies are made by making two layers of the rice krispie, butter and marshmallow mixture in jelly-roll pans. A filling of caramel, more butter and a can of sweetened condensed milk is heated together and when the caramels are melted, the mixture gets poured over one of the layers that has been sprinkled with more mini-marshmallows.
It's a good idea to keep these gooey, chewy, sweet and sticky bars chilled. They get pretty soft at room temperature.
I decided to even out the edges of the large rectangle, slicing about 1/2 inch away from each of the four sides. I thought I'd taste a bit. I wound up eating all the trimmings. It must be the absence of rice krispie bars in my life for so many years that made them taste so good to me. That soft caramel and marshmallow filling didn't hurt one bit, either.
If you are in a rice krispie bar stage of life, you may want to try these. Even if you're not, I think you'd like these ooey, gooey delights. They'll bring out the kid in you.
Caramel Krispies
8 cups crisp rice cereal
1/2 cup (1 stick) butter
1 1/2 (10 1/2 – ounce) packages miniature marshmallows
1 (14-ounce) bag caramels
1/4 cup butter
1 can sweetened condensed milk
In a large pot on the stove or in a large bowl in the microwave oven, melt 1/2 cup (1 stick) butter and 1 bag of marshmallows together. Add cereal and stir to coat. Pat mixture into two jelly roll pans, 10-inches x 15-inches each, that have been lightly coated with non-stick cooking spray. Refrigerate pans while making caramel filling.
Over low heat on stove or in microwave oven, melt caramels with 1/4 cup butter and sweetened condensed milk. When mixture is creamy and smooth, sprinkle remaining half bag of marshmallows on one pan of rice cereal mixture. Slowly pour the warm caramel filling over the marshmallows. Place second layer on top of the filling. Press down firmly. Chill before cutting.
Sue Doeden is a popular cooking instructor, food writer and integrative nutrition health coach. She is the host of Good Food, Good Life 365 on Lakeland Public Television. Her own hives full of hardworking bees and her love of honey led to the creation of her recently published cookbook, Homemade with Honey.