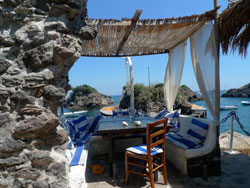 Ischia, the biggest of the three islands in the Gulf of Naples, isn't big. You can circle its rocky, 34-kilometer perimeter by boat in less than an hour.

And while you're doing that, may I suggest you pause, as everyone does, to leap into the Tyrrhenian Sea, where you'll encounter (1) volcanic thermal waters, and (2) the fish you'll be eating later that evening.

Ischia differs from its more famous neighbor, Capri, in ways that are readily apparent. You can feel it's more laid back. You can see there are far fewer yachts anchored in its bays. You can walk down every one of its cobblestone streets and never pass a Prada, Ferragamo, or Dolce & Gabbana shop.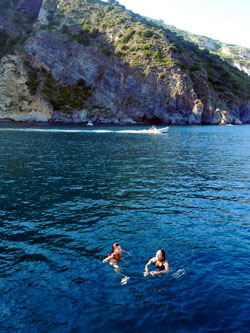 Instead, it has terme – spas – rich with rejuvenating mineral salts from underground hot springs. Most of the bigger hotels have at least one pool filled with these healing waters. And then there are places like Giardini di Poseidon, a kind of elaborate therapeutic theme park set down along the beach of Citara, where every 'ride' - and there are 22 of them - is a plunge into a thermal pool of a different temperature.

As for the fish you were swimming with, you can order up a plate of them in every restaurant in every town on the island. Or you can do what I recommend and make an afternoon of it, renting a small boat to take you and your friends to one of the many coastline ristoranti that can only be reached by boat. I say reached, but what I really mean is approached, because the best way to reach them is to park the boat a hundred or so meters offshore and swim in.
| | |
| --- | --- |
| | |

One of these is the aptly-named Garden of Eden. Another, simpler establishment has a name I've forgotten, but I can tell you how to get there: Just say to the boat captain at the Albergo della Regina Isabella, in your fractured Italian, Please take me to your favorite fish restaurant, and he will.

Both of these places are nestled in picturesque rocky coves. Both serve fresh fish, pasta, vegetables, fruit, and wine and limoncello made from grapes and lemons grown on the island. The tomatoes, too, are locally grown and taste like something you haven't tasted in years: tomatoes.

But the restaurants and spas, good as they are, aren't secret. The Secret of Ischia is a little film festival which has quietly taken place on the island each July for the last seven years.

Everyone knows the Venice Film Festival. And though it's only a few years old, you've probably also heard of the Rome Film Festival. But how many know about the Ischia Film & Music Global Fest? Nobody, I would wager, but those who have somehow ended up there.

Unlike Cannes, you won't find many film producers hawking their wares at Ischia. Indeed, you won't find one, because you will also not find any film buyers there. You won't find studios world-premiering their latest $100 million films there either, because there won't be legions of international press.

What you will find is a program of Italian and American films showing daily at a theater in Ischia Porto for free. And, at night, you'll find one projected on a screen anchored in the water of Lacco Ameno against dramatic rocky cliffs, where earlier that day you swam and sunned and drank a glass of Ischia wine.
| | |
| --- | --- |
| | |
That's where you are now, along with the other invited guests. The sun has gone down. You've put on a linen jacket or an evening dress. You're sitting on the dock in a plastic chair, a Billini in your hand, with Fellini's 8 1/2 flickering above the lagoon.
It's a perfect evening like this that quickly makes you realize how special the Ischia Festival – headed by film and people lover, Pascal Vicedomini – is.

Pascal is an Italian national treasure, if you ask me. He's a champion of cinema and social causes, and he is tireless. He does everything from organizing the program, to moderating the seminars, to televising a live interview show, to presiding over the award ceremonies. He is, as producer Mark Canton is fond of describing him, a force of nature.

There is a rare and wonderful spontaneity to the proceedings which becomes apparent to the unsuspecting very quickly. When I first arrived last winter to Ischia's sister festival on Capri - after 14 hours of flying from Los Angeles to Frankfurt to Rome, a 2-hour train to Naples, and an hour on a boat to the island - I sought out Pascal with the intention of introducing myself and retiring to bed.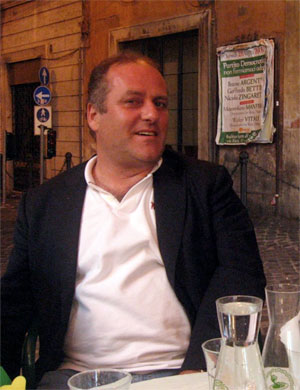 I found him at the already-in-progress opening night ceremonies and the first thing he said to me was, Steve, please can you make a presentation to composer Nicola Piovani. I said, When. He said, Now. I said, I can barely stand up, I can barely think straight, I'm wearing jeans and a t-shirt, I'm sorry but I can't.

Pascal looked at me ruefully. My son, Charlie, who had also just traveled 17 hours, looked at me ruefully. Somehow he understood immediately what it took me a moment longer to realize: This was the spirit of the festival. Whatever comes up, the right answer is always yes. So I nodded, okay, went up on stage in my jeans, made the presentation, and stayed up for another six hours, enjoying a concert by Mr. Piovani and a dinner at midnight.

This year, things in Ischia got off to an even more spontaneous and exhilarating start. Sting, at his wife Trudie Styler's urging, came to the festival. At the opening night ceremony, he got up, said, I'm not good at making speeches, so I'll sing a song. He sang a short tune a cappella, and, figuring he was done for the night, sat back down.

I watched Pascal regard him ruefully. I regarded him ruefully. And while Sting may not have immediately realized what the looks meant any more than I had a year and a half before, he would soon enough.

Before the night was done – along with jazz pianist Eric Lewis, Italian rock singer Zucchero, and opera legend Andrea Bocelli - Sting had given a rousing impromptu concert of Police songs - one of which he said he hadn't sung in 25 years – to ... a hundred or so people.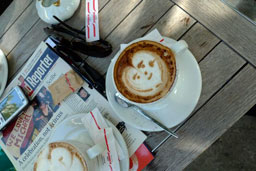 That's Ischia. That's Pascal. And that's what we – Jean-Jacques Annaud, Jim Sheridan, Paul Haggis, Trudie Styler, Danny Glover, Marc Forster, Bille August, Terrence Howard, Angela Bassett, Dan McVicar, Nastassja Kinski, Fisher Stevens, Mark Canton, Gina Gershon, Harvey Weinstein and Pascal's other guests - now come to expect on his island.

But how did we end up here? As far as we can recall, we all got a phone call or an email, though we can't precisely say why we got it. For whatever reason, we did, and we said to ourselves, we don't quite know what this is, but are idly curious. Or curiously idle. Either way, we all gave the right answer.

Yes.
Steve Zaillian is a screenwriter and director.