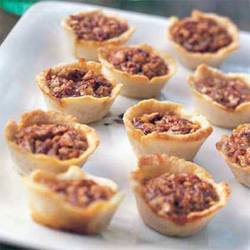 Over the holidays my cousin and her husband who live in San Francisco invited me to join them at a resort in Jamaica called Round Hill. It is to the Caribbean what The Beverly Hills Hotel is to LA. Many of the staff have been there for decades and when you leave, you feel as if you are leaving your family members. When you return, the staff always remember you.

Before I left, I was visiting my family on our farm in Georgia. The new crop of pecans had just been harvested and knowing what a fan my cousin's husband is of anything made with pecans from the farm I decided to make him some "pecan tarts." It takes all day and I actually despise making them, too messy and too much trouble. However, I justified the pain with my invite to Round Hill. I carefully placed them in two very pretty boxes tied with some nice ribbon and off I went.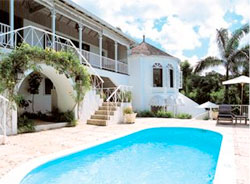 After dinner, the night I arrived, the cousins invited some neighbors and friends to our villa for a cocktail party by the pool. I noticed that some of the bartenders and even a manager appeared at the villa with wine and spirits. Round Hill service is to take care of everyone at all times.

A nice man walked up to me, introduced himself and said he was told I was the girl who made the pecan tarts. Apparently, much to my dismay, the bartender was serving them. This man told me he wanted to go in business with me, said we could make a fortune with the tarts selling them in the pretty box. He went on to say that he is a huge fan of pecans (and southern food) and those were the best thing he has put in his mouth in a long time. I told him I would never make them and sell them, no way, too much trouble.
He tried to convince me we could have a business just 3 months a year, during the holiday season. I promised to make him some and told him I would think about it. Turns out he is a well known media mogul. I made him a couple of boxes and delivered them to him the last time I was in NYC. He loved them and wants more. He made me promise not to give out the recipe.
However, it's not a secret recipe. In fact, it's all over the Internet. The difference is in the quality of ingredients and the time taken to make them. I use butter I stock up on when I am in Ireland made from the Kerry cows. Yes, you can use Philadelphia Cream cheese but I prefer any kind you can find at a gourmet market from France.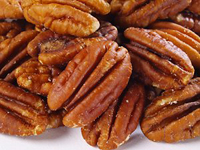 The most important ingredient is the pecans!
I grew up on a pecan farm and can tell you that it is almost impossible to buy the quality of pecans we grow except in the south. There are different grades of pecan, like everything else, and the one's I use are a top grade, hand shelled (no, I don't shell them but a man on our farm does). The butter and the cream cheese have to be room temp. The dough has to be put in the fridge for 3 hours before you attempt to work with it.
Once there done, I have to admit, it's all worth it.
Grandma's Pecan Tassies
Makes 24
Hands on: 15 minutes
Total time: 40 minutes.
Once made, keep well in an airtight container for a week or they freeze well for a
month. To bring our their flavor once they've been in storage for a few days, simply pop
them in a 350°F oven for a few minutes, and they will taste "freshly baked."
For the crust:
1/2 cup (1 stick) unsalted butter, room temperature
1 (3-ounce) package cream cheese, room temperature
1 cup all-purpose flour
1/4 teaspoon salt
For the filling:
1 egg
3/4 cup firmly packed brown sugar
1 tablespoon unsalted butter, melted
1/2 teaspoon pure vanilla extract
1/8 teaspoon salt
1/2 cup chopped pecans
Preheat the oven to 350°F.
For the crust: Cream the butter and cream cheese together in the bowl of an electric mixer on medium speed. Add the flour and salt andcontinue to combine on low speed. Divide the dough equally into 24 balls, about the size of a gumball. Press the balls of dough into a mini-muffin tin, using your thumb to press the dough against the sides to form a shell. Set aside.

For the filling: In a medium bowl, combine the egg, sugar, butter, vanilla and salt.
Sprinkle 1/2-1 teaspoon nuts into each shell. Top with a teaspoon of the egg mixture.
Transfer to the oven and bake 15 minutes, then reduce the temperature to 325 degrees,
and cook until set, an additional 10 to 15 minutes. Remove to a rack to cool.