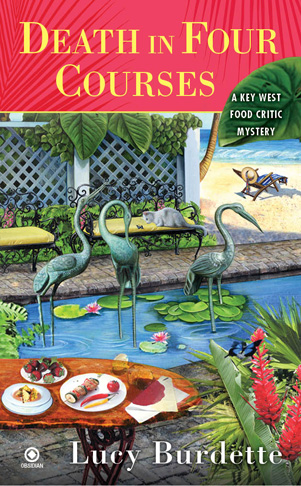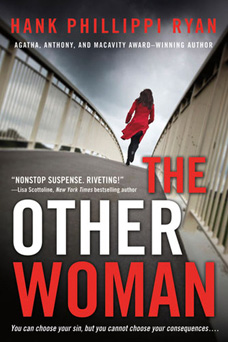 When two of my dearest friends were launching new novels -- Hank Phillippi Ryan ("The Other Woman
") and Lucy Burdette ("Death in Four Courses
") -- I wanted to throw the best bash ever to celebrate.
Before I knew it I had a crowd of about 80 people coming to wish the authors well and pick up signed copies of the books.
The challenge -- after figuring out where to put everyone -- was to offer up delicious finger food and drinks without breaking the bank, and doing it in a way that I could manage myself with the help of a few stalwart friends at the party.
I kept telling myself: Keep it simple, affordable, and delicious!
The solution: An antipasto table
Platters of meats and cheeses cut into bite sized pieces
Platters of grilled marinated vegetables.
A big basket of sliced french bread
Two kinds of crostini -- thin slices of barbecued steak on horseradish cream with arugula; and basil-flavored goat cheese with roasted red peppers -- assembled in advance.
Lots of cookies, baked that day.
Prosecco and sparkling water, augmented with whatever guests are generous enough to bring.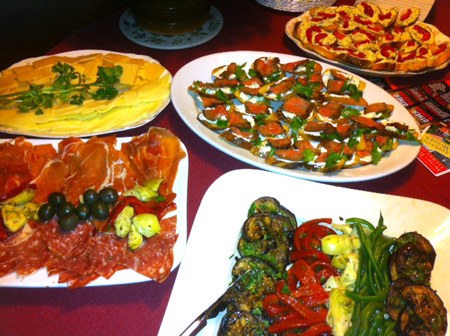 The real work was the day before - especially slicing long loaves of day-old French bread into thin slices and toasting them slowly in the oven. Goal: 250 slices. Also grilling and marinating the eggplant and red peppers and grilling the steaks. Right before the party, we assembled platters and made up the crostinis. During the party, the only work was replenishing the platters and collecting the trash.
At the end: zero leftovers. Z-E-R-O.
BEST in show: marinated barbecued eggplant that came from author Lucy Burdette's garden and oregano from mine.
Grilled marinated eggplant for an antipasto platter for a crowd
Ingredients
3 eggplants, sliced into 1/3" slices
Olive oil - for lightly brushing the slices before barbecuing
Balsamic vinegar - for dipping the slices after barbecuing
Marinade:
1/3 cup more of of olive oil
A half bunch of finely chopped parsley
2 T finely chopped fresh oregano
3 T finely chopped peperoncini
1/4 cup of capers, drained and minced
Salt and pepper
1. Mix chopped parsley, oregano, peperoncini, and capers; mix with 1/3 cup of olive oil and set aside
2. Heat an outdoor charcoal (or gas) grill.
3. VERY Lightly brush slices of eggplant with oil before putting them on the grill in batches without crowding, and being careful to avoid the hottest part of the grill.
4. Cook, turning until browned and just tender; try not to burn them.
5. Remove eggplant from the grill and continue to add more until all eggplant slices are cooked.
6. After the eggplant are all grilled, quickly dip each slice in balsamic vinegar. Cut slices into halves or quarters (bite-sized pieces)
7. Layer the eggplant in a bowl; between the layers distribute the herb/caper/peroncini and oil mixture
8. Chill (overnight is fine).
9. Remove from refrigerator) a few hours before serving and allow to come to room temperature before plating.
10. Serve on a platter with strips of roasted red pepper, artichoke hearts, marinated green beans, with a basket of thin sliced French bread ((fresh or toasted) from a narrow stick loaf on the side.
Hallie Ephron is the author 12 books, including the suspense novel "Never Tell a Lie" and the forthcoming "There Was an Old Woman." She is also an award-winning book reviewer for "The Boston Globe." Latest information about Hallie and her books at http://hallieephron.com/.