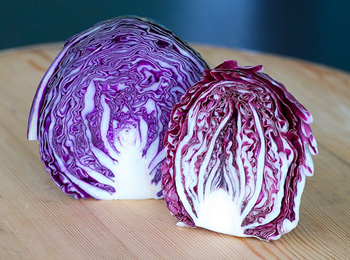 Last time I was at the supermarket, the cashier picked up my head of radicchio and punched in the code for red cabbage. The price came up as 70 cents.

I said, "Actually, that's radicchio, not red cabbage."

She voided it and punched in the correct code for radicchio. The new price came up as $5.50.

"Wow! That's expensive!" she said. "You should just get the red cabbage instead."

Get the red cabbage instead? Is she serious?

So what's behind this $5 difference between red cabbage and radicchio? Is it cabbage inflation? Is the Mafia getting kickbacks on radicchio sales?

No.

Red cabbage and radicchio may resemble one another, but when it comes to flavor, they're  as different as traditional broccoli and bitter broccoli rabe. So what is the difference between radicchio and red cabbage?

Radicchio (pronounced ra-DEEK-ee-o) is a leafy member of the chicory family, often called Italian chicory, which explains its bold, bitter flavor. Although it's compact like red cabbage, radicchio's leaves are thinner and more tender unlike red cabbage's firm and waxy texture.

Red Cabbage is a variety of cabbage with reddish purple leaves. It's flavor and texture is similar to green cabbage.

When you're at the supermarket, here's how to tell the difference between radicchio and red cabbage:

Radicchio is burgundy-red with white streaks. It's light when you hold it in your hand and soft to the touch. The price ranges from $3-6 a pound.


Red Cabbage is actually more purple than red and is uniform in color. It's heavy, firm, and has a waxy finish. The price is typically under $1 per pound.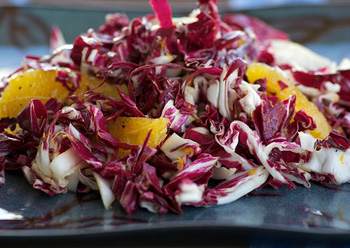 Both have their places in the kitchen, but just remember, they are not interchangeable. Red cabbage is best in slaws or simply slow-cooked and served with pork or beef. Radicchio is wonderful raw in salads, grilled and used as pizza topping or sauteed and tossed with pasta.

When when you want a bold Italian salad, you've got to go with radicchio. Due to its bitterness, radicchio pairs best with sweet, salty and acidic ingredients such as oranges, prosciutto and balsamic vinegar.
That's why this early spring Radicchio and Orange Salad with Citrus-Champagne Vinaigrette, is so pleasing. So next time you're at the market, don't let the cashier guilt you into buying red cabbage instead of radicchio. Just smile, pay the price, then reward yourself with an unforgettable radicchio dish when you get home.


Radicchio and Orange Salad with Citrus-Champagne Vinaigrette
Makes 2 main or 4 side servings

Salad:
1 medium head of radicchio
1 large or 2 small sweet oranges, such as Navel or Valencia

Vinaigrette:
1 1/2 tablespoons extra virgin olive oil
2 tablespoons champagne vinegar
The zest of 1 large or 2 small oranges
1/2 teaspoon sugar
1/4 teaspoon salt
1/4 teaspoon freshly ground black pepper

1. In a large bowl, toss radicchio and oranges.
2. In a small bowl, whisk vinaigrette ingredients. Pour over salad, and toss well. Taste it, and adjust seasonings as desired. Let sit for 20-30 minutes before serving so the radicchio becomes infused with the vinaigrette. 
Variations:
*Add thinly sliced fennel bulb and toasted pine nuts.
*Add crispy pan-seared prosciutto and toasted walnuts.
*Add sliced or shredded cooked chicken and crumbled blue cheese.
Susan Russo is a free lance food writer in San Diego, California. She publishes stories, recipes, and photos on her cooking blog, <Food Blogga and is a regular contributor to NPR's <Kitchen Window. She is also the author of  Recipes Every Man Should Know
.