I'm so crazy about noodles I could eat them every day and never get bored. Even the family I lived with in Italy was amazed at my capacity for eating pasta. And I love all kinds of pasta--Asian varieties along with Italian, being top of the list. Happily there are two books out at the moment that make a variety of Asian noodle recipes easily accessible to the home cook. Both have great photos and recipes that will send you scurrying into the kitchen.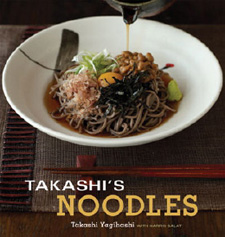 First up is Takashi's Noodles. They say if you get just one great recipe from a cookbook, it is worth the price. In that case, let me tell you about Spicy Eggplant Ja-Ja-Men Udon. Chef Yakashi Takashi, owner of Takashi's in Chicago describes this dish as a Japanese version of spaghetti and bolognese sauce. It's basically a spicy eggplant and ground pork sauce over noodles with peppers, spicy notes and a creamy sauce that is enriched with sesame paste. The recipe has 18 ingredients but I skipped a few altogether and used substitutions for a couple more and can't imagine it made any discernible difference. I didn't bother with the 1/2 cup dashi, 1/3 cup canned bamboo shoots, teaspoon of cornstarch or 3 Tablespoons of sake. I used Chinese chili garlic paste instead of a Japanese variety and Chinese sesame paste instead of tahini. I had to buy exactly 2 ingredients to make the dish, green peppers and ground pork. I could eat this dish every week! It is so comforting and at the same time exciting. The recipes vary in the number of ingredients but are generally not that difficult. They are all Asian or Asian-influenced but not all Japanese. You'll find crispy noodles, chilled ramen and cold soba, curry shrimp rice noodles even potato gnocchi with lemon butter sauce, scallops and sea urchin. These are restaurant dishes adapted for cooking at home.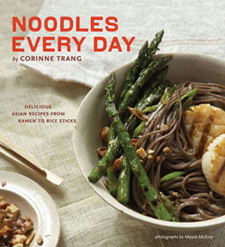 Noodles Every Day
features quick and easy recipes. For these recipes you will need the basics of an Asian pantry which are explained in detail in an early chapter. All are available at an Asian grocery store or online. However a few recipes have some more exotic ingredients like garland chrysanthemum leaves or silver pin noodles. All the recipes are titled descriptively so Pad Thai becomes Stir-Fried Rice Sticks with Tamarind Sauce, Dried Shrimp, Tofu, Sprouts, and Eggs. Over the years I've had very good luck with author Corinne Trang's recipes and this book is no exception. Her Somen Noodles with Shrimp Curry and Peas uses less than 10 ingredients and is the perfect kind of one pot meal you'll likely be able to make with peas and shrimp in your freezer and without a trip to the store. The book is divided into sections based on the type of noodle you are using--egg, rice, buckwheat, etc. and it also has a section on buns, dumplings and spring rolls.

When I was in Hawaii I was on a mission to try as many top-rated ramen joints as I could. While I'm still nowhere near satisfied with the ramen choices in San Francisco, I am pleased that on June 24th from 6:30 - 8:30 pm there will be a special program at the San Francisco Ferry Building called For the Love of Ramen sponsored by the Asian Culinary Forum. Andy Raskin, author of The Ramen King and I, Eric Nakamura, publisher and co-editor of the Asian-American pop culture magazine, Giant Robot and George Solt, assistant professor of history, New York University will be talking about ramen, a Japanese version of a Chinese noodle dish, with a history spanning the post World War II period all the way till today and including the instant version that has become so ubiquitous. There will be refreshments of course, and great conversation. As a side note, I've been to every Asian Culinary Forum event and they have all been very well-organized, good fun and offered plenty of food for thought. I've already bought my ticket, hope to see you there!
Amy Sherman is a San Francisco–based writer, recipe developer, restaurant reviewer and all around culinary enthusiast. She blogs for Epicurious , Bay Area Bites and Cooking with Amy .